France In Chaos Over Police Shooting Of 'Nahel', Grandmother Pleads For Peace
Systemic racism in France is at the root of the ongoing riots, expert says.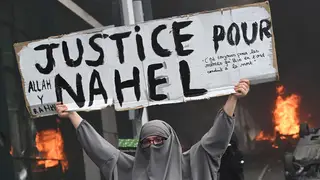 Amid a social justice uprising in France, the grandmother of "Nahel," a teen of North African descent fatally shot by police during a traffic stop, called for calm on Sunday (July 2) after five nights of violent riots, the Associated Press reports.
"Don't break windows, buses ... schools. We want to calm things down," she told French station BFM, according to the AP, adding that her anger is focused on the officer who killed her 17-year-old grandson but not on all police.
A burning car in a Paris suburb struck the home of L'Hay-les-Roses Mayor Vincent Jeanbrun Sunday while he and his family slept. Rioters have also targeted several police stations and town halls.
French authorities have detained more than 3,000 people since the riots started, including 78 arrests on Sunday (July 2) that marked a significant reduction from the 719 arrests on the previous day. Hundreds of police officers and firefighters have suffered injuries amid the chaos.
Meanwhile, French President Emmanuel Macron delayed his scheduled first state visit to Germany to address the unrest. Macron held talks Sunday night with members of parliament and planned to meet with 220 mayors in the coming days.
Violence first erupted in the suburbs of Paris, Marseille and other cities after a video on social media showed an officer pointing his gun at the car of Nahel, a young man of Algerian ancestry, whose full name remains undisclosed, in the Paris suburb of Nanterre on June 27. As Nahel pulled forward, the cop fired through the teenager's windshield. The officer was charged with voluntary homicide.
About 90 percent of French people of color, mostly North and sub-Saharan Africa immigrants and their descendants, say they have experienced racial discrimination, and about half of them say they were racially profiled by the police, according to a survey reported in February by French station RFI.
The Washington Post's Paris-based editorial writer Lee Hockstader wrote that millions of Black and mixed race French residents are made to feel not fully French because of the color of their skin, even if they were born in France or have lived there for many decades.