Two Black Female High School Seniors May Have Discovered a New Proof For 2,000-Year-Old Math Theorem
Calcea Johnson and Ne'Kiya Jackson of Louisiana gave a presentation at the American Mathematical Society's Annual Southeastern Conference.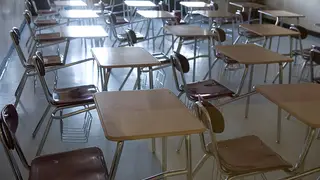 For more than 2,000 years, mathematicians have been trying to prove the Pythagorean Theory of trigonometry without circular logic. Two New Orleans East students may have done what many others have failed to do.
Calcea Johnson and Ne'Kiya Jackson just gave a presentation at the American Mathematical Society's Annual Southeastern Conference in March where they were the only high schoolers in attendance, per WWL-TV. 
"It's really an unparalleled feeling, honestly, because there's just nothing like being able to do something that people don't think young people can do," Calcea said. "A lot of times you see this stuff, you don't see kids like us doing it."
The young women explained that The Pythagorean Theorem states that three sides of a right-angled triangle can be expressed by the formula a2+b2=c2. With the formula, Pythaoras created trigonometry and therefore using trigonometry to prove Pythagoras' Theorem is what's known as circular logic.
Per PEOPLE, two said they used the Law of Sines — which is used to find angles of a general triangle — in their findings.
"In the 2000 years since trigonometry was discovered, it's always been assumed that any alleged proof of Pythagoras's Theorem based on trigonometry must be circular," the pair said. "In fact, in the book containing the largest known collection of proofs (The Pythagorean Proposition by Elisha Loomis) the author flatly states that 'There are no trigonometric proofs, because all the fundamental formulae of trigonometry are themselves based upon the truth of the Pythagorean Theorem.'"
The American Mathematical Society's Executive Director Catherine Roberts is encouraging the two teens to submit their findings to a peer-reviewed journal to "determine whether their proof is a correct contribution to the mathematics literature."
The girls, who attend St. Mary's Academy in New Orleans, say that they have incredible teachers who supported their studies, adding that the slogan of their private Catholic school is "No Excellence Without Hard Labor."
According to its website, St. Mary's was founded in 1867, it is one of the oldest Black Catholic schools in the country. It admits girls and boys through grade 7, and only girls through grades 8-12.