Snoop Dogg Joins Forces With Afrobeats Star CuhDeeJah For 'Bad Mama Jama' Remake
The track is inspired by Carl Carlton's 1981 funk classic "She's a Bad Mama Jama," which earned a Grammy nomination.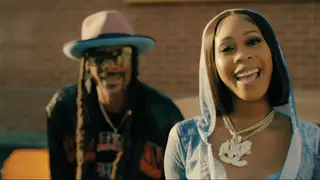 Snoop Dogg recently joined forces with Afrobeats star CuhDeeJah for her new summer single and video "Bad Mama Jama."
Directed by Daniel Curtis Lee, the visual follows the singer and two other women dressed as maids as they arrive late to a large mansion owned by her. Toward the middle of the video, Snoop meets up with CuhDeeJah as they exchange bars.
The song is a remake of the 1981 funk classic "She's a Bad Mama Jama (She's Built, She's Stacked)" by Carl Carlton. The hit spent 21 weeks on the Billboard Hot 100 and earned a Grammy nod for Best Male R&B Vocal Performance.
The new collaborative song drop comes right after the Afrobeats star finished up her 2 Miles Ahead Southern Hospitality Tour and the release of her single "Energy," which dropped earlier this month.
Watch the full music video below.