Latto Dishes On Why She Keeps Her Relationship Private On Latest Episode of 'Caresha Please'!
"Baby, it's just for me and mines."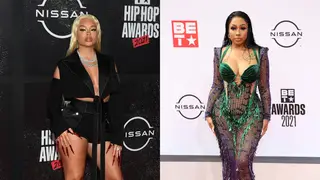 On the latest episode of Caresha Please with Yung Miami, the City Girls rapper has a candid conversation with award-winning artist, Latto, about women empowerment, changing her name, relationships, and so much more.
In true Caresha fashion, she held nothing back and dived into the questions immediately. One of them being, "Who is your man? Can you give us a hint? Does he have a tattoo?" The "It's Givin" rapper responded, "He a real n***a. He a rich n***a. He that n***a." But you better believe she didn't give a first or last name.
The Columbus, Ohio native went on to share, "Everything about our life is so exposed. I got something real, and I want to protect it from the world because I feel like this ain't no PR s**t." Yung Miami responded by affirming Latto's points because she too has experienced the comments about her relationship serving as a publicity stunt.
For Latto, she doesn't want people in her business or making assumptions, so she opts to protect her relationship. "And people think that I'm doing it to be fake secretive or on some fake, bougie s**t. Baby, it's just for me and mines. Ya'll gone know when I'm pregnant." Guest co-host, Saucy Santana tapped in to agree by saying, "Everything is so exposed and you just want something sacred and to yourself."
Yung Miami kept it going with "the smoke" when asking Latto if she wanted a 'Lil Latto' or 'Lil Him' and the 777 artist said, "I aint gone lie. I want a Lil Him. I'm such a sucker." Ultimately, both celebrity rappers agreed that you can be in love and be a rapper at the same time because they deserve to have all the experiences in life.
This girls night in was just the dose of joy we needed!