Black Michigan Girl Denied School Picture Because Of Her Red Braids Gets Special Photo Shoot
A Black Chicago photographer decided to help rebuild the third grader's confidence.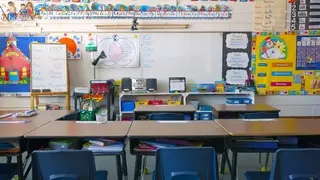 A Chicago photographer traveled hours to offer his services to rebuild the confidence of a third-grader who was denied the right to take her school picture because of her hair.
In early October, Marian Scott, 8, went to school ready to pose and smile for her school photo, but was told she couldn't participate in picture day because her red braids violated school code.
Photographer Jermaine Horton drove hours from Chicago to Jackson, Michigan, which is a little over 200 miles apart, to make things right for Marian, ABC 7 reports. 
Horton was joined by dozens of other professionals, who all wanted to make the little girl feel special, just the way she is, ABC 7 reports.  
"Confidence is a process, especially when you are rebuilding someone's confidence, especially a child because they are so fragile," Horton told ABC 7.
Marian's parents were never informed by the school on the day she was told she couldn't take her school picture. They found out when she arrived home crying and saying she felt singled out.
"It's upsetting you know," Marian's father, Doug Scott, tearfully told News 10 at the time. 
"All of this is uncalled for, they didn't even call us," he said. "Marian didn't leave the house, go on the street and get this done on her own, no - she's 8 years old, we did this ourselves in our home and there's no way I felt like this would happen."
Marian's parents have since moved her to another school, ABC 7 reports.
The Jackson County School defended its actions because Paragon Charter Academy, the school Marian used to attend, states in their handbook that students' hair color must be natural tones to get their photo taken. 
"I guess I think it's good that this happened because now people are going to get the opportunity to see what is really going on," Mr. Scott said.
The photographers that helped make Marian's photo shoot a reality wanted to make her feel special as they took her photos, and for her to take that feeling throughout her life. 
"It was fun," Marian told ABC 7. "You got to pose and got to be yourself."