Black Lives Matter Fumes At Response To Racist Rioters On Capitol Hill
The organization and movement is pointing out the response to rioters who stormed the building, as opposed to how they were treated last summer.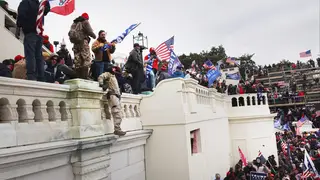 The Black Lives Matter movement, and its supporters, aren't mincing words when describing how hundreds of Donald Trump extremists were treated after storming the U.S. Capitol building yesterday (Jan. 6). They drew swift comparisons to how social justice protestors were treated last summer after several deaths of Black people at the hands of police.
"When Black people protest for our lives, we are met by National Guard troops or police equipped with assault rifles, tear gas and battle helmets," a Twitter thread from the BLM organization said. "When white people attempt a coup, they are met by an underwhelming number of law enforcement personnel who act powerless to intervene."
The incident, widely blasted as an act of domestic terrorism and insurrection, took place midday Wednesday (Jan. 6), while Congress was assembled to certify the results of the 2020 election. Pro-Trump rioters, who had organized a protest for that day at the invitation of the president, overwhelmed the police and ransacked lawmakers offices. Four people died.
RELATED: Trump Rioter Seen Carrying Confederate Flag Inside U.S. Capitol
Despite the violence, Congress reassembled late Wednesday and continued the confirmation of electoral votes, and at 4 a.m. Thursday (Jan. 7), Vice President Mike Pence announced that Joe Biden has been certified to be the 46th President of the United States and will be inaugurated Jan. 20, as per constitutional edict.
In contrast, during the massive demonstrations in cities across the United States over the deaths of George Floyd, Breonna Taylor, Rayshard Brooks, Ahmaud Arbery and others, demonstrators were met with aggressive militarized police.
"When Black folks are protesting and progressives are protesting peacefully they were tear-gassed, they were arrested, they were shot with rubber bullets. They were shot with real bullets," Derrick Johnson, president of the national NAACP told USA Today. "We watched it take place all summer long when people were peacefully demonstrating."
RELATED: Joe Biden Blasts Chaos And Riots In Capitol, Calling For Donald Trump To Do His Job
Possibly the biggest contrast was in an incident that took place in Washington D.C.'s Lafayette Park, just outside the White House in which protesters were tear gassed by federal police despite simply demonstrating in a public place. No attempt was made on their part to invade any buildings, unlike what happened on Wednesday.
Videos of both incidents show the difference.
Meanwhile, lawmakers, many of whom were appalled at the security breach, are saying U.S. Capitol Police failed in their duties and should be held accountable.
"The Capitol police were unprepared, ineffective and some were complicit. All of them should be held to account," said Rep. Marcia Fudge, former chair of the Congressional Black Caucus told USA Today. She also called the different response to Black Lives Matter protests a "double standard."
RELATED: Black Lawmakers And NAACP Call For Trump Impeachment And Removal Of Republican Enablers