Compton Mayor Offers Dr. Dre the Key to the City
Aja Brown hopes to work with the acclaimed producer/entrepreneur to rebuild his hometown.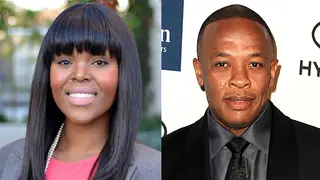 Fresh off the heels of his rumored $3.2 billion Beats Electronics deal with Apple, the mayor of Compton, Aja Brown, is offering Dr. Dre the key to the city.
Brown said that she wanted to recognize the "Dre Day" rapper's "entrepreneurial spirit," and by giving him the key to the city it would celebrate him as a businessman beyond the music, according to TMZ.
Additionally, she hopes to form a relationship with Dre to continue to restore the city.
It only takes a listen to a couple of Dre's tracks like "Straight Outta Compton" or "Some L.A. N---az" to see that he has deep roots in his hometown. He was instrumental in forming one of the biggest movements in rap, N.W.A, in the '80s, repping for the city lyrically, and sonically as a producer. He also co-founded Deathrow Records, and he currently owns Aftermath.
Dre's camp has yet to accept Brown's offer, but if he does, he will be the second West Coast producer, following DJ Quick, to receive the prestigious honor.
(Photos from left: Courtesy Aja Brown for Mayor Campaign, Kevin Winter/Getty Images)