Prayers Up: Trina's Mother Passes Away At 62 After Battle With Cancer
The family is asking for privacy and prayers during this difficult time.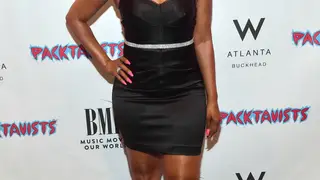 Our hearts go out to Miami rap icon Trina.
News has surfaced that the rap icon's mother, Vernessa "Nessa" Taylor, tragically passed away Monday morning (Sept. 2). She sadly lost her long battle with cancer. 
A representative of the Love & Hip-Hop: Miami star regretfully confirmed the devastating news in a statement to Entertainment Tonight.
Nessa was 62 years old at the time of her death. According to the outlet, Nessa was pronounced dead at approximately 12:30 a.m.

Through her rep, Trina profusely thanked her fans and supporters for their kind words. The message ended with a call for prayers for the Taylor family and a request for the public to respect their privacy as they mourn the loss of their loved one. 

"Thank you all for your kind words and condolences regarding Trina's mother," the statement concluded. "It truly gives the family some peace and comfort knowing that 'Nessa' lived such a fulfilling life filled with love and abundance."

The website wrote that Trina's inner circle of friends and family members are rallying around to help her weather through the difficult time and keep her spirits up. Trina has not yet commented on the news yet, but a member of the rap community has her in her thoughts.

Shortly after the news broke, rap empress Nicki Minaj took to social media to send love to her sister-in-rhyme while paying her respects to Trina's mother. 

"Sending love to my sister @TRINArockstarr during this time of the devastating loss of her beloved mother," the Queen rapper penned. "[Please] lift her up. This is a very difficult time for her." 

Trina often openly credited her mother for being her biggest source of inspiration and rock for her to lean on. The rapper paid tribute to her mother in the 2017 ode "Mama (The One)."

Last year, Trina released a video for the single. In a behind-the-scenes interview with the Recording Academy about the visual, she opened up about how her mother's health struggles inspired the track. 

"My mom was kinda sick when I was in the studio making this song, and I was in a really down place," Trina explained. "I called her on the phone, [but] she wasn't feeling so good, so that inspired the song. I just went into the studio with all these emotions… and that's how it came out."

She continued: "Respect, admire, love your mom. You only get one mom in the entire world. You can never, ever get another one. … No matter what happens, one only comes your way, that's a blessing."

BET sends its heartfelt prayers and condolences to the Taylor family during this difficult time.