Conway The Machine Details His First Non-Griselda Album 'Won't He Do It' And Embracing Being A Label Boss
The Buffalo rapper also describes how he put it all together and reveals Griselda is working on a sequel to 'WWCD?'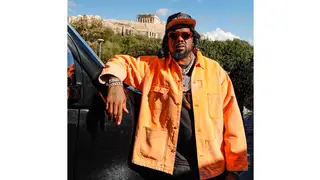 Conway The Machine has been one of hip-hop's best spitters since officially entering the game nearly eight years ago.
The Buffalo rapper has always had good company – whether through his family trio Griselda or being a favorite of Jay-Z and Kanye West, among a slew of other greats in the culture. Peer nor fan respect has ever been something lacking in his repertoire.
That said, Conway has often had to define himself within the umbrella of his real-life brother, Westside Gunn, cousin Benny The Butcher, and the extension of other artists that have earned their way under the GxFR umbrella over the past few years. Even his previous solo albums, God Don't Make Mistakes and From A King To A God, which are excellent in their own right, were still primarily curated by Gunn, known for his eye for art and fashion.
Now, Conway is doing things his way. Parting from Griselda Records in February through more of a business capacity rather than a personal one, the acclaimed rapper is releasing music under his semi-recently founded label Drumwork. It's the first time he'll make all the decisions since breaking out.
Won't He Do It is out today (May 5) and Conway is tapping into bags we've never seen him in. This one's more emotional, raw and vulnerable. But it's also not too far off what fans are used to.
BET recently spoke with Conway The Machine about his new album, running Drumwork, spiritual growth, conversations with Prodigy, and the latest regarding a sequel to WWCD? Read below.
BET: Won't He Do It… This is your first solo album under Drumwork. What does that mean to you now that you are fully responsible for everything that comes with it?
Conway The Machine: It means everything to me man. I'm happy to be my own boss. I'm happy to do things my way, you know, go to the studio when I want, record how I want – not saying I never had that freedom before. But it's dope man, it's a challenge that I needed. It's fire and I'm excited.
BET: What was that conversation like with [Westside Gunn] when it came to like, Hey I want to do my own thing now with Drumwork and I'm going to create the first non-Griselda album by an artist that was on the label?
Conway: By the time we really had any conversations about it, it was already in motion.
It wasn't really no conversation needed because I already know I always got my brother's full support and full blessings. Whatever I need, he a call away and it's always been like that. So I'm already knowing that in the back of my mind, so it wasn't really no convos needed. Just like, "It's go time, do your thing." I love that man.
BET: What have been the biggest lessons you've learned when it comes to running your own label?
Conway: I don't know If I learned any lessons, I don't know if I learned things that don't feel no different than what we're doing because I was so hands on and rise of Griselda – [I was] behind the scenes, on the front lines, and every aspect so it was like, I already kind of been through all that and all the lessons and all the stuff that I needed to learn I already got it went through my educational journey on what it takes to run a company and facilitate and be responsible for other people's careers, including my own. It doesn't feel like anything new or anything that I already wasn't prepared for.
BET: This album has an extensive range of features. You have New York mainstays like Fabolous and Dave East, but interestingly you also have Sauce Walka, Ransom and Juicy J who even produced a record. How did you go about curating this thing?
Conway: I really ain't do nothing new under the sun. I really just reached out to some homies, I just had these ideas in my mind for where I wanted to take my wave creatively. I already had a gang of beats from Juicy J in my phone, me and Juice already collabed on other records. He just always, out of nowhere, I will get like a text for like 10 beats and stuff. One day I was just combing through beats and I just knew I wanted to do something with a different sound. So I'm like, Man, I want to do some more with the Juice Mane. I went through the beats and found that certain beat.
My brother Sauce Walka, he making so much noise out here, just energy and just everything, he's pushing the culture forward. He is the culture right now, so it'd be dope to have him on here too. So joints like that. Even the joint with Ransom. I've been a fan of bro for a minute, and vice versa and we just always had talks about collabing and doing stuff together. It just happened to  made sense on this one.
"Brooklyn Chophouse" was the same way [with] Fabolous and Benny [The Butcher]. Fabolous my homeboy, I always wanted to work with him. I didn't want to put him on a traditional song for what people know fabulous for, like a the track for the ladies, the radio track. I wanted to put him on like a Daringer beat, like some grimy, street underground s**t. I wanted to bring them to our world, our Griselda world.
BET: You sound the most confident on this album I've ever heard you, and your single "The Chosen" is a prime example. Almost like, "I'm the solo artist now, this is my new thing." There's a presence you have on here that wasn't quite as prevalent as even previous solo albums of yours. Were you going for that at all or am I crazy?
Conway: Honestly bro, that's something that that's something that, that's the energy that I want on all my albums and everything I've ever done. What people don't know is those last couple of albums, I was dealing with a level of depression and stress because I fell out of love with the music, I was dealing with writer's block and just second guessing myself about myself and questioning everything, just tripping over a bunch of stuff that I really can't control anyway. I went down to Denver and was working on this album and that's how I found myself. Going down to Denver helped me shape back into being Conway The Machine again.
BET: "Kanye" is one song you get very introspective on. Again, probably one of the most vulnerable songs you've ever done. Very spiritual. Talk about that one and being more personal about your spirituality and journey…
Conway: Yeah man, at the end of the day none of this was possible without some type of faith and belief. That was just one of them records where I just wanted to give [fans] some feel good music. My music for the longest used to be so dark, you know, the Reject 2, Reject on Steroids, projects like that. I just always been in that and it just felt good to make music that makes you feel good and that my mom would enjoy listening to. Anybody from age eight to 80 are going to enjoy that record.
BET: Speaking of Kanye, your verse on "Keep My Spirit Alive" (from Yeezus) is concise. I remember hearing it and was like, this man told his story in eight bars. That also had you going out to the Mountains to record. What were your memories of recording that?
Conway: Going out there kind of changed me and gave me a different perspective on life and everything period. I love Kanye. He did a lot for me that he didn't have to do. He's a super inspiration of mine. Just being out there, I was living out there with him on his ranch for about two weeks working on music with him. Just those two weeks is probably the best two weeks of my life. Just eye-opening and I felt… Man I can't even describe how I felt just being out there in those mountains and on that ranch and being around other creatives and being around him and just soaking up the game and watching him create and make beats in front of me, him talking to me and I'm just listening. I've got a different level of respect for 'Ye. I love Kanye, man.
BET: "Brooklyn Chop House" is filthy. Benny's feature may be one of my top 3 favorite guest verses of the year. What made Fab and Benny the proper selections for this one in your mind?
Conway: I just knew I wanted two ill barsmiths on there with me. I didn't want to do a typical radio record, club, playing something for the ladies with Fabolous because that's what I felt like people would expect me to come with when they see featuring Fabolous. I wanted to flip it and just do something that was just so utterly disgusting and disrespectfully grimey. Then just have Benny close it out and go crazy. That was the goal with that record and we knocked it out the park. It's definitely one of my favorites on the album.
BET: How was the process different for you in general in creating this album versus God Don't Make Mistakes or even From A King To A God?
Conway: [When I released] From A King To A God we was traveling a lot and that was around the time when I was on a ranch with 'Ye. We were just coming off of What Would Chine Gun Do? album. We're touring with that, "DR BIRDS" going crazy in the streets. In between that I was working on From A King To A God and finishing it. I started working on it during the pandemic so I was able to just have time to myself, create and record because we know that everything has shut down.
Then with God Don't Make Mistakes, I was already working on that before I even did some things with [the next album]. I'm one of the types of people I was so excited when I did that [Shady Records] deal, I was just trying to impress [Eminem] and Paul [Rosenberg] so much I got my album done quick. I didn't understand how sometimes the business, it takes time sometimes, like the rollout. When you're dropping an album you need runway, you can't just throw it out there. I learned that along the way.
BET: I consider you one of the most comparable rappers to Prodigy and I know Mobb Deep was a significant influence to Griselda and you spent a lot of time with P before he died in 2017. What was some of the best advice he gave you or best memories you had with him?
Conway: I can tell you some memories. Just his phone calls man, just calling me. Seeing my phone ring and it's P – calling to chop it up, tap in. I would give anything to have that back.
BET: Yeah, it's been almost six years now… Insane…
Conway: We got a gang of records that never came out that we planned to put out, but he passed away before we [could] release them. I don't have them on my computer or anything. It may be in his computer and I don't know what's going on with them or what's happening but we got some fire on that computer. Me and P got some fire together, unheard fire.
BET: In the promo vid you dropped a few days ago, it had a quote where you said, "When I got up off that hospital bet, I won." Overall, how crazy has your journey been from thinking you may not even live to now with all your success with Griselda and now continuing that with Drumwork?
Conway: It's a blessing. That's all I can really say. I had to learn how to even like talk and move my jaw again. I couldn't stand up,I couldn't move my arm. That's what I meant by that like you're seeing where I'm at now. Just that alone, I already won. I got shot in my head. I'm able to walk and talk and play with my kids and rock stages. I won already, regardless if I ever win a Grammy or a BET Award or whatever. I won. I got my blessing.
BET: I know this gets brought up from time-to-time but is Griselda still considering a sequel to What Would Chine Gun Do?
Conway: Yeah, me and [Westside Gunn} we just talking about it yesterday. We are going to start working on it this summer. For sure. Hall & Nash too. We gonna make it the right way.