Larry June And Alchemist On 'The Great Escape' And How It's Organic In Every Way
Their first album together has been the culmination of healthy living, warm Cali breeze and the talents of two of hip-hop's best.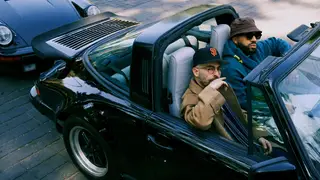 When coming together to work on their highly-anticipated collaborative album The Great Escape, Larry June and The Alchemist made sure their wellness equilibrium was straight before cutting on the mic and drum machine.
In almost all of his previous catalog, which is relatively extensive with 12 solo studio LPs in the 13 years he's been recording, San Francisco's June has rapped about healthy living, including his daily juice intake and self-care routine, and inspired fans to take self-inventory. It's something Alchemist, one of hip-hop's most in-demand producers, had to do himself before pulling up beat patterns and instrumentals for Larry to ponder over.
"I had to make sure that I had a proper amount of green juice so I could get on the right frequency," Al told BET during an interview earlier this week. It's this lifestyle that June not only raps about, but really lives with his bars often describing alkaline water like one would a diamond encrusted chain.
Once that equilibrium is set, the actual recording process of new joint album, released Friday (March 31), was, as Larry would say, "somethin' slight." The Great Escape houses 15 tracks and includes features from frequent collaborators like Curren$y and Evidence to debut joint efforts with Big Sean and Ty Dolla $ign. The whole thing is smoother than Egyptian cotton sheets and ambrosia for any modern hip-hop fan. Self-admittedly for June, it's the most focused he's ever been on a musical project.
Below is BET's discussion with Larry June and Alchemist where we discuss The Great Escape, its previously-released singles, studio dynamic, their fast friendship and more.
BET: ​​The Great Escape is coming this Friday… I know that Jay Worthy was the actual linking piece between you two, but why did you both want to come together for a project?
Alchemist: I mean, we already made like $4 to $6 million off oranges. So to me it's like a no brainer. Oranges alone! I'm not even calculating off of rap. So I knew immediately it was gonna be lucrative just standing next to the man and money's falling off the trees right now. So I'm just standing next to him like this [motions holding hands out], trying to catch the plays.
Larry June: Same for me man, the oranges are doing so well, and these beaches complement and everything else going with the oranges, it made so much sense. And it was a peaceful sound. It was very peaceful and everything came together great.
BET: What were some of those initial studio sessions like? Was it fit like a glove instantly or was there at least a little working out the grooves a little?
Alchemist: It was pretty easy. It really just came to find the right tunes, you know? I had to make sure that I had a proper amount of green juice so I could get on the right frequency. So for like a week or two before we worked I adjusted my green juice intake and kind of like tinkered with my pH just to get it up to the optimal level to rock with Larry because you know, that's part of the whole – this s**t is organic. It's not like it's not from a script. He really lives this s**t. He gave me a couple of notes on the right s**t to put in the water…
Larry June: Chlorophyll drops and s**t.
Alchemist: Yeah, he got me right. I'm a little older, so I probably needed more than he does. So I'm good. I'm getting right.
Larry June: Once we got over that he played the tracks and it was easy. We got that out the way and then it was just organic and we been [in that mode] ever since.
BET: "Palisades, CA," the second single you dropped, you collabed with Big Sean for it and he's someone that you both haven't worked with before – Al you met him through Mike Posner, I believe. What made this the song you wanted him on and how did it come about?
Alchemist: I feel like the records, they pick the people and I just get out of the way. Good thing that me and Larry have a nice Rolodex and we happen to be talking to Sean around the same time. So it was kind of like we were talking, we had the beat and it sounded like he'd go crazy on it. I'd never did a record with him, neither did Larry but we had all been talking. I know he's a fan of Larry's s**t, so it was kind of like a perfect opportunity. That's why it's pretty dope because I've been in this s**t for a long time and it's still artists that I haven't worked with. It took somebody like Larry to make that happen, I feel like me and Sean would have probably worked at some point but this is really what happened. Same thing with [Ty Dolla Sign], like I might have worked with Ty eventually but because they wanted to rock with Larry, and we have the project together, it worked out.
Larry June: Everybody could see the [Instagram post made by Big Sean]: "My first track on a Alchemist beat." It was a cohesive thing and we put it all together and it worked out perfectly organic. We made sure Sean had his fish oil and chlorophyll and made sure everyone was doing numbers and it came out perfectly fine.
BET: Through the tracklist we also know that Big Sean isn't the only Detroit collab on here as you also have Slum Village featured, which is amazing. How did that come together?
Larry June: That was through me. So in the process of doing this project, I was listening to a lot of Alchemist's past music from previous albums he did with other artists, his solo music, and Slum Village would pop up. I became a fan of Slum Village in the process of working on him so when I heard one particular song called "Call Me." I knew about Slum Village at records they did, but when I heard this particular song I knew I need them [on the record] because it was the soundtrack to my life at the time. So I reached out to them through my engineer and they happened to know who I was. And when we did a concert in Detroit, we brought them out. Shout out to Slum Village and T3.
BET: The other two singles that were dropped prior to the album release are "89 Earthquake" and "Porsches in Spanish." How did each of those come together?
Larry June: "89 Earthquake" was the second song I did with Alchemist. It was a couple years ago and we had it on ice for a minute. I had me a sea moss smoothie that morning, I set the studio up in the kitchen near the window and I just started freestyling and it came out right and I sent it to him, he liked it, and, s**t man, I call that the organic and frugal and we named it "89 Earthquake."
"Porsches in Spanish," I heard the beat, I loved the beat. It came on and already had a vibe itself. It was vibing so hard it didn't need a hook. So I got on there started rapping and I tried to rap how I thought Al would like – nice long verse, but it didn't work and we had to cut it down. I ended up rapping for like five minutes straight so we chopped it up, the beat was fire and then the name… We ended up going to Mexico to do some content and whatever and we ended up shooting a video that we thought of the name after that. We ended up in Mexico in some Porsches, so we were like, should we name it "Porsches in Spanish?"
Alchemist: We were like, How do you say Porches in Spanish? And we just left it at that [laughs].
BET: [Laughs] and Curren$y is on the album as well, and it's kind of a full-circle moment for both of you because Al – Covert Coup was one of the first projects you did in more of the independent artist/producer role you're known for now, and Larry, because he was one of the first bigger artists that supported you and your music. What did it mean to get him on this?
Alchemist: Curren$y is one of the greatest. He set the blueprint for artists, he's a great friend. In two different ways we both connected to him and we didn't figure that out until later. He's definitely responsible for, and I always tell him that, yeah I did Return of the Mac with [Prodigy of Mobb Deep] before that, but working with new artists and doing these collaborative albums – Covert Coup was the one that really set it off, so yeah, he plays a big part in what I do now and I think the same can be said by Larry…
Larry June: For sure. When I was coming up, I always called Curren$y to talk to him about regular s**t. He's the one who helped me want to get into my smooth bag 100 percent. I was on some trap s**t and he called me like, "Larry, I got to tell you something – your trap s**t cool, but your smooth s**t I can clean the kitchen to. You got to be able to clean the kitchen and drive the old school to. You've got a great voice for it." And I was like, Man you know what? You right. I kept doing it and it worked. He also gave me advice on like the independent side because I didn't understand how to make money on the music side. And he's like, "Just keep going, keep rockin'."
BET: Larry, how is your process different when you're working with just one producer as opposed to many because it's not necessarily new for you as you've worked exclusively with people like Cardo on a project in the past?
Larry June: With this project in particular was very different, actually because I didn't just send the records. I recorded them at home but also brought them to the studio like, What should I change? It was a collective thing where I give him my ideas and he'd give me his input on what I should change. I think the detail on this project is a little more extreme than any other project that I did. It's kind of like having to prove yourself all over again but in a very organic way.
So working with [Alchemist] was fun. It was a great experience and this has been one of the most fun projects I've ever done. Just traveling the world – crazy cribs in Malibu, Palm Springs, being down in Mexico eating tacos – it was very organic. Going to the studio every day just listening to beats, watching high speed chases on YouTube. It was organic. It was natural, and it gave us time to pay attention to detail.
BET: And Al, how was this maybe refreshing for you to kind of take it to the Bay with your samples and instrumentals because more recently you've been working with east coast and midwest artists like Roc Marciano, Griselda, Boldly James, kind of more gritty stuff?
Alchemist: I don't know about the sound or the beat selection, but I will say that like even growing up in L.A., I found an interview of me when I was 15 with The Whooliganz and I'm saying how like the scene in San Francisco is even better than the L.A. scene, the hip-hop scene, because we were really inspired by Hieroglyphics, Souls of Mischief, Saafir, all that underground rap s**t. The Bay was always like a destination and a place that felt like, it was almost like New York where they say, "You can make it there, you can make it anywhere." It's not New York, but still the Bay Area always felt like if you get stamped out there, it was its own little world.
I never really got a chance to work with too many Bay Area artists. I've worked with Mistah F.A.B., spoke to [Suga Free] a couple of times but I really never got to really tie in and make records. So this is kind of a big deal for me because I feel like damn, I really got to make a record with who I feel like is probably the best out of the Bay or definitely a hometown favorite. When I was out there before we'd even worked, every f**king car was playing [Larry's] s**t.
BET: One of my favorite things that's happened since you two have linked was your performance at Rolling Loud, specifically your rendition of Prodigy's "Hold You Down." The crowd may have been a little too young to understand what was going on, but what was that moment like and how influential was that song for you especially since you're getting back to rapping a little?
Alchemist: Yeah, I mean that's, you know, my brother and he opened the doors for me early and gave me a co-sign and a lot of good things happened from there. Even that record was recorded at the same studio as where [Larry and I] did "60 Days" and I decided to jump on something. It wasn't part of the plan originally. So yeah, the fact that that song lasted this long and that record got a lot of push back then. It was on the radio, we had the video and had you know a little bit of machinery behind it. So to be able to still pop out and do that s**t…
Larry June: For me that was the best part of my show, when he came on and did that. It was cameras up and everything. I just felt like it wasn't you know… we were going after Playboi Carti and everybody jumping up and down screaming. We really don't do that kind of music so it's like a different energy. Nothing against him, you know it's all love. It's just a different kind of music so they vibing and everything. My whole set, I'm doing "Watering My Plants" where basically I'm just talking over a peaceful ass beat and I didn't bring that [uptempo] energy to begin with. A person like you who was fan already and been already knew it would have been going super wild but the crowd was already chill. That was the highlight of my show when he came out and even when we did "60 Days," that was the highlight of the show. We was super peaceful, everybody had the cameras out.
Stream Larry June and Alchemist's The Great Escape below.