Keri Hilson's Coronavirus Conspiracy Theory About 5G Networks Has Black Twitter In Shambles
The conspiracy theory has left Black Twitter in shambles.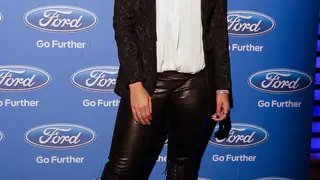 Understandably, there has been some panic over the coronavirus outbreak after the virus's rapid spread to communities around the globe.
Naturally, with any widespread pandemic of this magnitude, there's bound to be a few conspiracy theories that crop up from the skeptics. On Sunday (March 15), R&B singer Keri Hilson took to Twitter where she shared her take on the impetus behind the coronavirus breakout: wireless 5G networks.
"People have been trying to warn us about 5G for YEARS. Petitions, organizations, studies...what we're going [through] is the [effects] of radiation," she warned. "5G launched in CHINA. Nov 1, 2019. People dropped dead. See attached & go to my IG stories for more. TURN OFF 5G by disabling LTE!!!"

Along with her message, Hilson posted multiple screenshots of articles to back up her claims. In a separate tweet, she posted a screenshot from a website that purportedly explains how 5G wireless networks can cause radiation. 

"And to be clear, I'm saying there have been lots of studies & experiments that point to the possibility that the dangerous levels of electromagnetic radiation (5G) could be CAUSING the contagious virus," she iterated. "Why do you think the virus is not happening in Africa like that? Not a 5G region. There may be a few bases there, but not as prevalent as other countries. It has nothing to do w/ melanin (for those theories)..." she continued. 

It didn't take long for people to chime in with their thoughts across Twitter, and most are having a field day with her tweets. Some are also using the spotlight on Keri to caution others away from spreading misinformation at such a critical time. 

See what they had to say about her 5G conspiracy below: