CDC Warns About Traveling To Aruba Due To COVID
The Omicron variant continues to surge all over the world.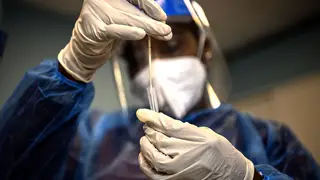 COVID is surging all over the world and now the CDC is warning Americans not to travel to the Caribbean island of Aruba.
According to CNN, Aruba has been labeled Level 4, a "very high level" of coronavirus risk due to the Omicron variant. Level 4 is considered 500 cases per 100,000 residents, who have registered with COVID in the past 28 days. Over 70% of Aruba's population is fully vaccinated.
The Aruba Tourism Authority is requiring anyone traveling to the Dutch island to show proof of a negative molecular COVID-19 test taken within two days of their departure. In addition, they must complete an online Embarkation/Disembarkation card and purchase Aruba Visitors Insurance.
France, Germany, Greece, Ireland, Italy, and several other European countries have been designated Level 4 as well.
Countries that have the lowest risk rating for COVID-19 are Taiwan, India, Hong Kong, and Fiji.