'Red Table Talk' Canceled Amid Ongoing Changes at Facebook
The Daytime Emmy Award-winning series debuted in May 2018.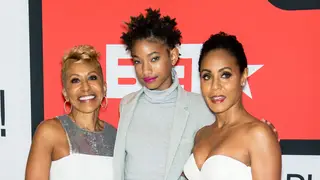 Jada Pinkett Smith, Willow Smith and Adrienne Banfield-Norris are stepping away from the big red table, for now.
After nearly five years, the Daytime Emmy Award-winning web talk series Red Table Talk  is ending after its network Facebook Watch was shut down by Meta, Deadline, who first broke the news reported.
Red Table Talk, which premiered on Facebook Watch in 2018, became successful thanks to its raw and candid conversations about current and sensitive issues featuring an array of A-list celebrities and public figures.
The axe came down on the forum that presented thoughts on various topics from a three-generational point of view as part of a series as part of a cost-cutting measure as Meta pivots towards more VR experiences in Meta Horizon Worlds, Variety reported.
It's also noted that RTT has fulfilled its order and will not have new seasons along with the remaining FB Watch Originals. Steve on Watch with Steve Harvey and Piece of Mind with Taraji with Taraji P. Henson were also among the shows canceled. Westbrook Studios is currently on the search for a new platform.