LIVE UPDATES: Ketanji Brown Jackson Senate Confirmation Hearing Day 2
Senators will ask serious questions about the Supreme Court nominee's legal opinions and decisions as the procedures continue.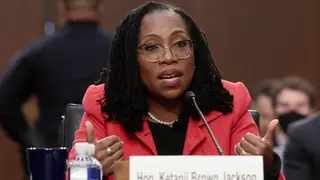 At the end of the first day of her Senate confirmation hearings for placement on the Supreme Court on Monday (March 21), Judge Ketanji Brown Jackson introduced herself, gave thanks to her family, friends and mentors and listened to the opening statements of senators.
On Tuesday (March 22), the real show begins. The federal appellate jurist will take serious, pointed questions from legislators on the Senate Judicial Committee about her background, her legal decisions, her opinions and the outcome of cases she's been involved in through her career.
BET.com will be live blogging the confirmation hearings with frequent updates. CBS News will also livestream the procedures throughout the day.
After leaving CRT alone, Cruz begins to drill her on her membership as a member of the trustee board for the Georgetown Day School in Washington D.C., and a mention of commitment by the school to social justice.
Jackson explained the reasoning behind the 1945 founding of the school to be a place where children of all backgrounds would be welcome.

"The idea of equality, justice, is a the core of the Georgetown Day School mission," she continued, saying that parents join the school's community understanding that it is designed to ensure that all of its children are valued and that none suffer racial discrimination.

He steps off of that topic and moves to her sentencing child sex predator cases, saying he sees "a record of activism and advocacy as it concerns sexual predators that stems back decades and is concerning."

He talks about a note she wrote in the Harvard Law review in 1996 as a student about the constitutionality of sentencing of convicted predators, saying there are cases where some requiring some offenders to register may or may be unconstitutional and said she suggested overall leniency for child predators.

"Those are not the sentiments that I expressed in my law school note," she said, explaining that it was about sex offender registration laws, which at the time were relatively new and emerged just prior to Megans Laws, which protect children. "The point that I was making was not that the laws were wrong, I was trying to assess something that is fundamental in terms of the characterization of the laws. I didn't say they were unconstitutional, one way or the other.

"What I was trying to asses was how they are characterized. Some courts would look at those laws and call them preventative…some courts would call them punitive. What I was trying to do was figure out how to make the determination."

Minutes later, Cruz pulls out another placard showing federal sentencing guidelines for child sex crimes and sentences Jackson handed down as a federal judge, all of which were below the guidelines, including a three-month sentence.

"Your chart does not include all of the factors that Congress has told judges to consider, including the probation officers recommendation in these cases." Cruz says those factors were not available to the Senate committee.
"The second thing I would say is that I take these cases very seriously, as a mother, as someone who as a judge has to review the actual evidence in these cases and based on Congress's requirement, take into account not only the sentencing guidelines, not only the recommendations of the parties, but also things like the stories of the victims, also things like the nature and circumstances of the offense and the history and characteristics of the defendant. Congress is the body that tells sentencing judges what they're supposed to look at and Congress has said a judge is not playing a numbers game.

"The judge is looking at all of these different factors in making a determination in every case based on a number of different considerations and in every case,  I did my duty to hold the defendants accountable in light of the evidence and the information that was presented to me."
After going through a short soliloquy of his problems with the "1619 Project," Cruz then relates it to critical race theory (CRT), a college and graduate-level academic framework to analyze systemic racism which is rarely, if ever, taught in K-12 classrooms. It has been a contentious issue used by conservatives to attack public school curriculums and state legislators in several states have passed laws against it being taught. It may also weigh in the 2022 midterm elections.

"In your understanding, what does critical race theory mean," Cruz asked Jackson.

"Senator," she replied, "my understanding is that critical race theory is an academic theory that is about the ways which race interacts with various institutions. It doesn't come up in my work as a judge. It's never something that I've studied or relied on and it wouldn't be something that I would rely on if I was on the Supreme Court."

Cruz, launches another lament over critical racism as being developed by Marxist Harvard law professors before asking about Jackson's worldview on how race affects society and If CRT plays a significant role in it.

"I've never studied critical race theory," she replied, "and I've never used it. It doesn't come up in the work that I do as a judge." In response, Cruz pulls out a placard with a quote from Jackson about CRT relating to sentencing during a 2015 speech at the University of Chicago, and involving the theory.

"The quote you were mentioning there," she said, "was about sentencing policy. It was not about sentencing. I was talking about the policy determinations of bodies like the Sentencing Commission when they look at a laundry list of various academic subjects as they consider what the policy should be."

Cruz, holding Jackson to the question because at the time she was vice chair of the U.S. Sentencing Commision, asked again what she meant by her statement. "That slide," she said, "does not show the entire laundry list of different academic disciplines that I said relate to sentencing policy, but none of that relates to what I do as a judge."
3:46 p.m.

Texas conservative Republican Sen. Ted Cruz, probably unsurprisingly, attempted to lay into Jackson first by grilling her on race – particularly critical race theory – and also some of the same questions she'd been asked earlier on her sentencing of child sexual predators.

First Cruz, a former Harvard Law School classmate of Jackson's, began with asking whether or not she agreed with Dr. Martin Luther King Jr.'s believe that all people should be judged by the content of their character rather than the color of their skin, to which Jackson answered affirmatively.

He then referenced a 2020 speech Jackson gave at the University of Michigan Law School in which she referenced New York Times journalist Nikole Hannah Jones and the news organization's "1619 Project." Jones contends in the writing that American colonial independence stems from wealthy planters desire to preserve slavery. Historians have debated whether or not that is factual since the debut of the project in 2019. Cruz asked Jackson if she agreed.

"When I gave that speech," Jackson replied, "I was asked to speak on Martin Luther King day…I gave a speech about Black women in the Civil Rights Movement." She said most of the speech was focused on African American women and their contributions to the movement. "One slide was one of [the] journalist who made that statement, and I called it provocative. It is not something that I've studied, it does not come up in my work. I was mentioning it because it was, at least at that time, something that was talked about about well known to the students I was speaking to at the law school."
2:50 p.m.

Jackson challenged a question asked about court packing, or plans to expand the size of the Supreme Court, saying that she felt political issues go beyond the scope of what a judge should be answering.

Senate Judiciary Committee ranking member Chuck Grassley, an Iowa Republican, invoked past Supreme Court justices Ruth Bader Ginsburg and Stephen Breyer, saying they spoke out about court packing. But Jackson said Justice Amy Coney Barrett, the last jurist to be confirmed to the court, did not comment on the issue in her confirmation hearings in 2020.

"Other nominees to the Supreme Court have responded as I will, which is that it is a policy question for Congress and I am particularly mindful of not speaking to policy issues because I am so committed to staying in my lane of the system," said Jackson.
Republican Senator John Cornyn, a former Texas Supreme Court judge and vocal supporter of traditional marriage, questioned Jackson on her positions on same-sex marriage. He asked her if a 2015 ruling on the issue conflicts with state laws that block the rights of same-sex couples to marry because of religious freedom.

Although she admitted that marriage is not specified in the U.S. Constitution. She said:  "That is the nature of a right. When there is a right, it means that there are limitations on regulation, even if people are regulating pursuant to their sincerely held religious beliefs."

However, she said she could not comment on her personal views because there are current related cases pending in the courts.
11:45 a.m.

South Carolina Republican Sen. Lindsey Graham used his time for questioning Jackson to invoke a variety of contrarian points ranging form prisoners at Guantanamo Bay accused of terrorism to Judge Michelle Childs, who had been a contender for the Supreme Court nomination, to her religious faith.

Graham, who actually supported Jackson last year when she was nominated for U.S. Appeals Court, questioned her actions when representing Guantanamo Bay detainees. Republicans have favored keeping them detained indefinitely and say their release resulted in further terroristic actions. Graham questioned Jackson's position on the Executive Branch process of holding detainees and trying them or releasing them. Jackson said that was not her decision and that she only filed an amicus brief on a particular case.

"As a judge now, in order to determine the lawfulness or unlawfulness of any particular issue, I need to receive briefs and information making positions on all sides," she said.

Graham later went on to ask about how much Jackson knew about efforts against Childs' a South Carolina U.S. District Court judge. "Did you notice that people from the left were trying to destroy Michelle Childs," he asked. She replied that many people supported many potential nominees.

"If you missed the fact there was an organized effort…" then went into several quotes that disparaged childs from supporters of President Biden. "You didn't know that all these people were declaring war on Judge Childs," he asked. Jackson said she did not. Graham broke from that line of questioning to simply ask what her judicial philosophy is.
"I have a methodology that I use in my cases in order to ensure that I am ruling impartially…my judicial philosophy is to rule impartially and to rule consistent with the limitations on my authority as a judge, and so my methodology actually helps me to do that in every case."
Earlier in her legal career, Jackson served as a federal public defender, so reflecting on that, Sen. Patrick Leahy, a Vermont Democrat asked her about that job making her an impartial judge in criminal cases.

"I think that experience in the criminal justice system, whether…on the prosecution side or the defense side, having actual experience is an asset as a judge," she said. "You understand the way the system works and as a defense counsel you have interacted with defendants in a way that as a judge, at least as trial judge, I thought was very beneficial.

She said the experience made clear to her the need to communicate directly with defendants, many of whom do not fully understand criminal justice and court processes and instead of contemplating their own accountability, they may blame the system for mistreating them.

"I understood from my time as an appellate defender that a lot of defendants go through the system and don't really understand it," she continued. "The problem with that from our society's standpoint is that when people go through the criminal justice system and don't have a good understanding, they tend to not take responsibility for their own actions.

"They tend to be bitter and feel as though the justice system has wronged them and so while they're doing their time, rather than reflecting on the fact that this is the consequence they have to face for actually committing a crime, instead of doing the work to rehabilitate themselves, they're focusing on how wronged they are, how victimized they feel.

"So what I decided as a trial judge was that I was going to make sure that everyone who was in my courtroom and especially the defendants understood all of the procedures that we were going through, all of the steps. I spoke directly to them, I asked them 'do you understand what's happening,' because I wanted them to know. And then even perhaps more importantly, as I said about my child pornography cases, I focused on the harms of the behavior that was an issue.

"When I sentenced a defendant, I made clear in every case, here is the problem. This is what you've done. Here is the damage to our society and I don't know that I would have done that, if I had not been a criminal defense lawyer," she said.
In response to a question from Durbin, Jackson spoke about her time on the U.S. Sentencing Commission and sentencing for people convicted on cocaine possession.
She said there were judges who had come from multiple backgrounds who saw the criminal justice system in a variety of ways.

"But we had a directive from Congress in so far as Congress had changed the penalties as you mention as it relates to crack cocaine," she explained. "We reached unanimous agreement that the change in the guidelines necessitated by the change in the statute should apply retroactively to people who had been convicted and sentenced under the prior regime and then congress followed shortly thereafter by making it a statutory change to apply changes retroactively."
Jackson pushed back against Republican Sen. Josh Hawley's accusations on Monday of passing lenient sentences on sex offenders who distribute child pornography. When Senate Judiciary Committee chair Dick Durban asked about Hawley's questioning the Supreme Court nominee explained how she explains the sentencing she passes down on those convicted of the crime.
"As a mother and as a judge who has had to deal with these cases, I was thinking nothing could be further from the truth," she said. "These are some of the most difficult cases that a judge has to deal with because we are talking about pictures of sex abuse of children," she said, "we're talking about graphic descriptions that judges have to read and consider when they decide how to sentence in these cases and there's a statute that tells judges what they're supposed to do.
"Congress has decided what it is that a judge in this and any other case when they sentence, and that statute doesn't say look only at the guidelines and stop. The statute doesn't say impose the highest possible penalty for this sickening and egregious crime. The statute says calculate the guidelines, but also look at various aspects of this offense and impose a sentence that is "sufficient, but not greater than necessary."