More Details Emerge on Soulja Boy's Alleged Robbery
He was trying to prove he's "hood."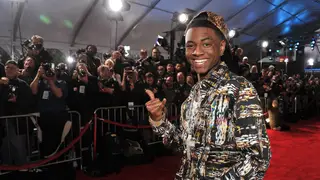 UPDATE (1/4/2017, 8:30 a.m.): As new footage surfaces from Soulja Boy's hood mishap, the most recent videos gives us a behind-the-iPhone view of what many speculated as an unexpected robbery. 
From his Instagram Live camera, viewers were able to see Soulja trekking through Compton, flaunting his street cred—or, at least, what he assumed to be. Once he throws his arm around the shoulder of an approaching individual who had been walking with another crew of men, the guy quickly throws Soulja's arm off. An obviously offended Soulja tosses his phone and gloves on the ground thereafter, leading many viewers to believe things had taken a violent turn for Soulja.
In addition, another video shows the "Crank Dat" squaring up for a fight with the individual after doing away with the phone as the other men attempt to diffuse it. But in doing so, one of the men from the other crew pick up Soulja's camera. This was presumably the person who abruptly ended his Instagram Live segment, and had the Internet calling hilarious foul play on SB. 
Afterward, he must have been able to retrieve his phone, as the flexing doesn't end with the sudden street showdown between Soulja's crew and the other men. Finishing his excursion through Compton, he gets back to the regularly scheduled program, yelling out "soo woo" in allegiance to the infamous Piru Blood gang, recording members of his entourage giving the neighborhood some graffit treatment and flashing off his sparkly jewelry.
Looks like this is going to be a long January, everyone.
See the new footage below.
Soulja Boy just can't win today.
After an exhausting day of beefing with Chris Brown over Breezy's ex Karrueche Tran, the rapper pretty much lost all dignity when he got robbed...while broadcasting on Instagram Live. The details only make this story all the more cringe-worthy.
It all started when Soulja took his act to Compton to earn his hood credentials, and livestreamed his visit. During the broadcast, he pulls up to a man and yells, "What's going on, man? They say Soulja Boy ain't from the hood," and then puts his arm around the unidentified man. The man then pushes Soulja away saying, "Get off me, though."
At that point, the phone drops, another guy grabs it and the broadcast ends. Presumably, Soulja never saw that phone again.
Folks wasted no time clowning the rapper for the giant L to cap off an already bad day, starting with Chris Brown himself:
Take a day off, DeAndre. You deserve it.