Hip Hop Awards 2022: Get Familiar with Some of the Biggest Acts to Roll Through the Halls of Legendary Hip Hop Label, Loud Records
Steve Rifkind's iconic music imprint signed the likes of many, including Wu-Tang Clan, Three 6 Mafia, Remy Ma, and more.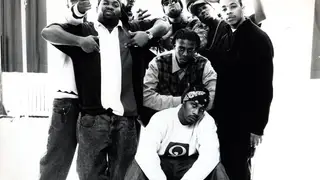 The BET Hip Hop Awards is more than just a night of big wins, award speeches, and dazzling live performances. The annual ceremony is a celebration of not only hip hop music but hip hop culture. At this year's event, the recognition of one of the most influential genres in music will continue as we set to honor 30 years of the iconic LOUD Records and pioneering founder Steve Rifkind.
Several of the industry's most prominent artists will hit the stage for an unforgettable performance to commemorate the legendary label, including M.O.P., Remy Ma, Three 6 Mafia, Wu-Tang Clan, and many more who've gotten their big break thanks to Rifkind and his imprint. Ahead of this year's show,  hosted by Grammy-nominated emcee Fat Joe, get familiar with some of the biggest acts to roll through the halls of the legendary hip hop label.
Wu-Tang Clan

Wu-Tang Clan—RZA, GZA, Ol' Dirty Bastard, Method Man, Raekwon, Ghostface Killah, Inspectah Deck, U-God, and Masta Killa—were signed to Loud record in 1992. The group released their debut studio album, Enter the Wu-Tang (36 Chambers), a year later. The project is regarded as one of the best hip-hop albums of all time with iconic tracks, including "C.R.E.A.M.," an acronym for "Cash Rules Everything Around Me." The song, which features a sample of the Charmels' 60s song "As Long As I've Got You," has been referenced all throughout hip hop and pop culture.

Remy Ma

Bronx native Remy Ma, born Reminisce Mackie, was discovered by the late Big Pun, a Loud Records signee at the time. Pun later became a mentor for the rising female artist who would appear on his album Yeeeah Baby on a track titled "Ms. Martin" and "You Was Wrong."

Remy ultimately signed with the label shortly after Pun's death in 1999.  She released her debut album, There's Something About Remy: Based on a True Story. The 18-track project featured the emcee's hit record "Conceited (There's Something About Remy)." The song was co-written and produced by legendary industry veteran Scott Storch.

Akon

For the project's 15th anniversary, Steve wrote on Instagram, "I told Universal that @akon will be the biggest selling artist of my career, and they laughed in my face." Needless to say,  Steve and Akon had the last laugh.

Big Pun

The late Big Pun gained prominence in the Bronx underground hip hop scene in the 1990s. In 1997 he signed with Loud Records. The emcee would go on to release his debut studio album, Capital Punishment,  a year later to critical acclaim. The 24-track project peaked at no. 5 on the Billboard 200 and marked the first time a solo hip-hop Latino artist went Platinum. Rolling Stone added the release to their list of The 200 Greatest Hip-Hop Albums of All Time.

Mobb Deep

Hip Hop duo Havoc and the late Prodigy, better known as Mobb Deep, are one the most culture-shifting acts to come out of hip hop in the mid-1990s. Rifkind spoke to Billboard following Prodigy's death in 2017, recalling initially meeting the then aspiring rapper.

"I first met Prodigy when Mobb Deep came up to my offices looking for a record deal in early '94," Rifkind told Billboard. "They had a swagger to them, they had an 'it factor,' they were like superstars. I remember, without hearing any music, thinking, 'I got to sign these guys.'" The group ultimately left the label in 2003

Watch the Hip Hop Awards on  Tuesday, October 4, at 9 PM ET/PT on BET