Exclusive: Marsai Martin Has Enormous Plans For Her 16th Birthday
The 15-year-old star is finally getting comfortable in Hollywood.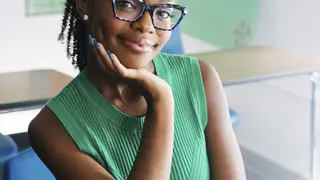 At just 15 years old, Marsai Martin is in a lane all her own. From being the youngest executive producer in Hollywood for her film, Little, and receiving awards like the 2019 Young Stars BET Award, she's not slowing down anytime soon on racking up on her accolades and accomplishments. Her mere presence on screen is game changing, and she's choosing to use her platform for something that's obviously near and dear to her: vision!
Marsai Martin teamed up with Essilor for their 20/20 Vision Pledge to prioritize vision and educate people on the importance of eye exams. Who better to represent that than the cutie with the glasses all over our TV screens, Marsai Martin?
BET caught up with Marsai Martin to talk about Essilor's 20/20 Vision Pledge, her experience with glasses growing up and in Hollywood, and what's next for the newly minted 15-year-old!
BET: Can you tell us a little bit about your experience growing up with glasses and why you wanted to get involved with Essilor's 20/20 Vision Pledge?
Marsai Martin: I think I started wearing glasses around 7 years old. Throughout that process, I struggled with poor vision and it impacted everything around me. I was that kid in the front of the class, like trying to read the whiteboard while also struggling to understand everything throughout the whole semester. It really was a struggle for me.  Now being an actor and a producer, and having all these big responsibilities, my vision is like really critical to allowing me to see the world in a different perspective and just seeing it clearly so I can do what I love to do every day. Literally, if you see the logo on my production company, it has glasses on.
When it came to partnering with Essilor, I actually realized they are in the same lane as me. They are also committed to helping parents understand the importance of eye exams annually, finding the right doctor to get the right glasses and finding the right lenses. And it's not just about the prescription, but it's about the all-around glasses and what they can do to change your life really. It's kind of a challenge to really get people to be informed and that's why I really wanted to partner up with them to make sure every kid gets the same support as I did when I first got my glasses.
BET: As the youngest executive producer in Hollywood, how do you feel the "nerd with glasses" stigma has been shifted at all in films and television? How do you plan to shift it?
MM: It definitely has shifted. When I started doing auditions, I would usually take off my glasses 'cause that's really what I thought they wanted to see; my literal face. My first audition I actually had my glasses on was really Black-ish. And that's really the project that got me started and being comfortable in my actual persona. I feel like the narrative has definitely changed because of me being like a black girl and also wearing glasses.
It was kind of a struggle for me to actually find my lane in the industry. Now I realize it's kind of my own lane to figure out. And that I can actually inspire young girls or boys that are embarrassed or feeling weird about having their glasses on. To inspire them and to really show them you can really just be yourself with however way you look, whichever way you look. It doesn't matter if you have glasses on, if you have braces or acne on your face. It happens, it's human and it's not just you that is going through this stuff. The narrative of how people see beauty has kind of changed, too. It's really of how you feel on the inside. It's not really about what's on the outside anymore.
BET: We love that you're so into putting your own twist on trends, like with your makeup tutorials. How do you manage doing the full face beat without having your glasses on?
MM: Wow, that's a really good question! I honestly don't know. I don't really even notice my vision when I'm really doing makeup.
BET: When it comes to choosing your glasses, do you coordinate them with your outfit, your makeup or both?
MM: I have a bunch of pairs of glasses to wear. I have 21 pairs of glasses. I literally checked. Some of them have like a tint to them and they kind of turn into like shades or they are different shapes, like big bulky squares. I really don't have a preference on which one I like, but it really depends on my mood. Right now, I have on these like vintage big square glasses on that turn into shades when I get outside. Sometimes actually my makeup artist or my hair stylist actually picks the glasses for me. It really depends on the weather or I don't know, sometimes you just want to look poppin'! I have a lot of them to where I can just choose from either one. And it's like a whole team effort.
BET: You've had a pretty cool year. You were front row at New York Fashion Week for Christian Siriano and we loved your look. How was that experience?
MM: It was really great. It was such an amazing thing. That was actually my first fashion week. To have that be my first show, where I have this like customized Sweet Tarts, which is my favorite candy, look and, of course, having it from one of my favorite designers, is truly a blessing. I saw all my favorite people and I got to meet new people. I really got to see the world of fashion in a different way than I see it like on Instagram or on my timeline. It actually made me love New York.
BET: We also saw all the photos and videos from your 15th birthday party. Tell us a little bit about the concept behind your party.
MM: I'm not really a party person. My whole family, we are all entertainers. We entertain at our house all the time. But I'm always so busy, so I haven't had a party in a long time. I just thought that something that would be really trendy would be "The Glo Up." And I love neon, so that was also a part of it. So everyone was in glow-in-the-dark outfits or in very bright colors.
Also, me and my dad usually go to the bowling alley on Wednesdays to hang out with my friends and he hangs out with his friends. We always have a good time. So we kind of mixed that together to where it can be a very dope experience where like everyone else is with us on that Wednesday, even though it was on a Saturday. It was such a cool experience.
Now, I'm kind of a party person! I really like to plan things. I'm excited for my 16th party. We're actually planning it right now just to figure out how we're going to level up. I am actually really blessed that I had the opportunity to have my imagination come to life and to make it into a reality. It was so dope.
BET: As you're growing up, your character on Black-ish, Diane, is also growing up. What can we expect for her character development in Season 6?
MM: There's so much going on with her. I feel like she's in this weird, awkward, teen phase where she's finding her confidence, she's finding herself and she's also dealing with their crazy family as well. So you'll see a lot of laughter. You'll see a lot of emotions. I feel like the whole family is kind of going through this transition.
They have a baby now. Marcus' character, Junior, is trying to find himself when he's not going to college and he's lying about his job. Then, of course, Miles and I, we're just the twins. We're just trying to make it through our last year of middle school and trying to understand what life is. If feel like that's every family. I think that's why Black-ish is so relatable, because you can relate to every single character on the show. With Diane, I think you'll see a lot more from her. I can't say a lot, of course, so stay tuned!
BET: Reflecting on this past year and turning 15, what are some of your goals for this next stage in your life?
MM: You know, I ain't gonna lie, I feel like I have so many things going on. There's so many things I wish to tell you guys like it makes my head hurt. My goal is to make sure everything is straight before I tell you guys anything: every single detail on every single movie, TV show, product. 
Editor's note: This interview has been edited and condensed for clarity.