Beyoncé's Reaction to Serena Williams's Wimbledon Win Had Twitter Talking
#BlackGirlsRock.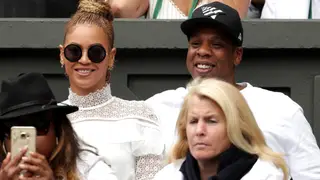 Serena Williams won a historic 22nd Grand Slam title early Sunday with her victory at Wimbledon. It seemed like everyone was super into it and very congratulatory after her win, except Beyoncé...kind of.
The Queen's been known to be a huge basketball fan, but when it comes to tennis, she either wasn't as amused or knew less about the sport. Of course Twitter dragged her for it. Sitting alongside husband Jay Z, Bey was seen sometimes cheering on her friend Serena while also seeming confused after she actually won.
As Williams spiked the winning shot to defeat Angelique Kerber 7-5, 6-3, the crowd jumped from their seats in celebration. Beyoncé remained seated until she realized a few seconds later that it was all over.
"Beyoncé looked so confused at the Wimbledon championships today," One Twitter user wrote. "At least she was supporting Serena."
After her victory, Serena Williams fell to the ground at center court while hitting a spread eagle. A huge grin adorned her face as she's now become tied with Steffi Graf as the most successful woman tennis player in the Open Era.
Check out some of Twitter's reaction to Serena Williams's win at Wimbledon as well as Beyonce's reaction to her winning.