Celebrating Pam Grier: An Icon of Strength, Talent, and Trailblazing Cinema
As we commemorate the birthday of Pam Grier, we reflect on her standout roles that redefined the cinematic landscape.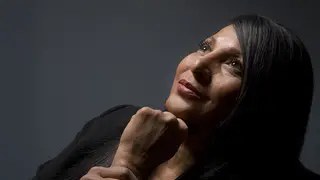 Happy Birthday, Pam Grier! Today, we celebrate a woman who has left an indelible mark on the film industry, creating an incredible legacy with her unique blend of strength, talent, and trailblazing performances. Pam Grier, known as the "Queen of Blaxploitation," has had a career that has spanned decades, giving life to characters who continue to inspire and influence generations.
Coffy (1973) is where Grier truly became a force to be reckoned with. In her role as the unyielding nurse seeking revenge for her sister's drug addiction, Grier revolutionized the image of the screen heroine. Her performance exuded power and resilience, creating a beacon of female empowerment that still resonates today.
In Foxy Brown (1974), Grier immortalized herself as the audacious and fearless titular character. Through her performance, she painted the portrait of a woman unafraid to take destiny into her own hands. The film's lasting popularity is a testament to Grier's compelling performance and undeniable on-screen magnetism.
Years later, Grier turned in a critically acclaimed performance in Quentin Tarantino's Jackie Brown (1997). As a flight attendant caught in a convoluted plot of money laundering, she demonstrated the depth of her acting prowess, earning her Golden Globe and SAG Award nominations. This performance firmly established her as one of Hollywood's most accomplished actresses.
Grier also brought her vast talent to television in the series The L Word (2004-2009). Her performance as Kit Porter demonstrated her versatility and ability to capture the complexities and struggles of her character with empathy and depth.
Beyond her impressive filmography, Grier pioneered breaking down barriers for Black women in Hollywood at a time when they were often sidelined. Her bold performances have paved the way for a more diverse and inclusive film industry.
On Pam Grier's birthday, we pay homage not only to her profound contributions to cinema but also to her role in challenging and expanding societal norms. Her enduring performances are as impactful now as when they first graced the screen, a testament to her prowess as an actress and her influence as a trailblazer. Here's to Pam Grier - a true icon of the silver screen. Happy Birthday!