Amanda Seales, Issa Rae Respond To AKA Members Upset Over 'Insecure' Episode
Some folks are unhappy seeing the sorority pop up in the show.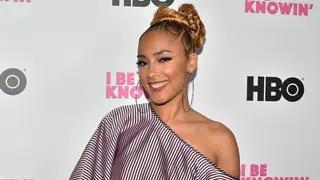 Members of the Alpha Kappa Alpha sorority are not happy with the group's shoutout on the season premiere of Insecure. At the start of the HBO show's fifth and final season, Amanda Seales' character Tiffany is portrayed as a member of the elite group.
Specifically, they're angered because Seales is not a member of the sorority in real life.
Others are jumping to Seales' defense, pointing out that the show is fiction and that Tiffany and Yvonne Orji's character Molly were both established as AKAs from the show's inception.
Additionally, both Seales and show's creator and star Issa Rae have responded to the criticism. Rae joked that she was going to have HBO delete one of the upcoming episodes.
Seales took to her Instagram story to address her critics.
"I don't know why people keep asking me if I'm a soror," the actress said on her Instagram Stories.. "I am not a soror, Tiffany is a soror. Tiffany is a character on a TV show. I didn't write the character, I play the character. I'm not a soror, I'm an actress and I'm playing a character on a TV show."
She continued: "I think reality TV has really got folks f****d up — it's like [they think] it's all the same," the actress said, shaking her head. "I'm just playing a character, that's it.
"Y'all know that tho… but some of y'all don't," she added. "I feel like some folks really forget it's a TV show."