In Chicago, Gun Violence Remains Topic No. 1
Chicagoans are expressing their continued frustration on the city's escalating gun violence.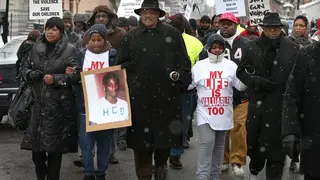 Chicago's staggering level of gun violence has taken center stage in discussions throughout the city, with politicians, activists and ordinary citizens expressing frustration with the continuing deaths, particularly in the city's African-American community.
Of course, Chicagoans have long expressed their dismay over the escalating level of deaths from guns in the last year. But the topic has been discussed with intensified urgency following the death by gunfire last week of a 15-year-old honors student who performed at President Obama's inaugural festivities.
In fact, many Chicago residents, including civil rights leader Jesse Jackson, have called on the president to attend the funeral of Hadiya Pendleton, the student who was killed in a random shooting on the city's South Side. Her funeral is Feb. 9.
"When the president shows up, it shows ultimate national seriousness," Jackson said. He also called on the U.S. Department of Homeland Security to help patrol the streets of Chicago. Illinois Gov. Pat Quinn announced that he will attend the funeral.
Chicago's murders increased to 506 in 2012, up 17 percent from the previous year. Chicago mayor Rahm Emanuel announced last week that the city would shift 200 police officers now serving in administrative positions and deploy them on the streets.
The issue of gun violence has made its way to the congressional race to succeed resigned Congressman Jesse Jackson Jr.
Mel Reynolds, a former congressman and one of a host of candidates running in the congressional special election, noted that there were 42 homicides in Chicago in January 2013, the highest number since 2002.
"In a cold month? What does this say for the summer?" Reynolds said. "What's going to happen in April, May, June, July, August, September? What are we facing? Is this a prelude to the worst time we've ever had in the history of Chicago when it comes to gun violence?"
Reynolds called on the federal government to apply more attention and resources to curbing gun violence in Chicago.
Meanwhile, U.S. Education Secretary Arne Duncan, a Chicago native, has enlisted
Derrick Rose and Joakim Noah of the Chicago Bulls in a campaign to advocate stopping Chicago's gun violence.

BET National News - Keep up to date with breaking news stories from around the nation, including headlines from the hip hop and entertainment world. Click here to subscribe to our newsletter. 
(Photo: Scott Olson/Getty Images)