Bell Biv Devoe, Khalid, Michelle Obama & More Champion Black Excellence at CNN's 'Juneteenth: A Global Celebration of Freedom'
The live broadcast also honored the life and continuing legacy of Opal Lee, the "Grandmother of Juneteenth."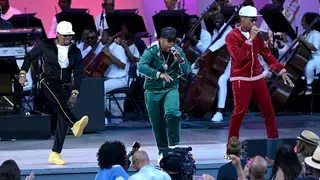 A year after President Joe Biden signed legislation making June 19 the nation's 12 federal holiday, the "Grandmother of Juneteenth," Opal Lee, led hundreds in a walk through her Texas hometown to celebrate the occasion this past weekend. The 95-year-old Black woman who helped successfully push for this moment to be — and continues to cite how important it is for people to learn the history behind it — was also being given her flowers during CNN's Global Celebration of Freedom.
Airing live on June 19, creator Shawn Gee of Live Nation Urban and Jesse Collins Entertainment, provided a beautiful experience for those able to attend the famed Hollywood Bowl in Los Angeles, California and were provided with music, food, and an unbounded amount of Black excellence. Across the country, many Black people were celebrating the day just as they did before any formal recognition, but this was undoubtedly different.
The sea of Black bodies joined together in happy unison definitely made all of our ancestors proud.

I had walked into CNN's inaugural Juneteenth: A Global Celebration of Freedom unaware of what I was getting myself into. I knowingly came in blind after having the time of my life at Leimert Park's Juneteenth Festival because it was important to be in the moment. As you can see in the video below, upon first sight, you are almost unprepared to be engulfed in such a moving commemoration of history, music, dance, and Black excellence.
From the moment I took my seat, joined by Happy Period's Chelsea VonChaz, it was apparent that we were no longer going to let America's negative impact stop us from achieving our greatness. Lucky Daye, the Grammy-winning singer-songwriter, was already on stage performing his hit song, "Over," as the jam-packed venue swayed to his every note. The lineup was already full of icons like "The Elements," Earth, Wind & Fire to Debbie Allen to the incomparable Billy Porter, but when you have a live experience curated and conducted by Questlove and Adam Blackstone, the surprises are epic in scale and awesome in being dynamically Black.

The Roots were up after the New Orleans crooner concluded his set, and brought out Chaka Khan, who sang classics like "Ain't Nobody" and "I'm Every Woman," dedicating the latter song to the "powerful women in the audience." Then "Captain" Kirk Douglas, the phenomenal guitarist, and singer who has been with the group since 2004's The Tipping Point, stole the show with an epic solo during the performance of "You Got Me" from 1999's Things Fall Apart. Meanwhile, friends in attendance like Marvel's Angélique Roche and media strategist April Reign caught up during the commercial break and shared how affected we were by the sight of such bold and incredible Blackness.
The good vibes continued as Marsai Martin introduced country music phenom, Mickey Guyton, as she covered Marvin Gaye's protest anthem, "What's Going On," and closed out with her original, Grammy-nominated single, "Black Like Me." This spotlight a moment to see just how many of us have returned to the genre, as I noticed many in my section and around me singing the song in full unison with Guyton. With poet Amir Sulaiman's moving message, "You will be someone's ancestor. Act accordingly," made to viewers and us in the crowd — it wasn't lost on me or others how many major keys we were receiving in then-real time.
Two poignant moments for me came when Debbie Allen, the mother-in-my-imagination, came out to introduce members of DADA (Debbie Allen Dance Academy), who performed a vibrant dance piece performed by The Re-Collective Orchestra. The all-Black symphony orchestra made history by becoming the first Black American-led music group to be onstage in the Hollywood Bowl's 100-year history. The second came when Bell Biv Devoe appeared and got me and nearly everyone in the Bowl up on their feet. Proving that the fellas still "got it," the trio performed their massive hit singles, "I Thought It Was Me" and "Poison," while presenters Leslie Jones, Amanda Seales, and Gabourey Sidibe bopped along on the side of the stage.
RELATED: Juneteenth 2022: The Most Blackity-Black Black Guide For This Year's Festivities

With all of the jubilee, the moment was not lost on everyone that this is a time to honor those who fought on the frontlines to make this moment happy. From President Biden and Vice President Kamala Harris' recorded messages about "never forgetting the horrors of slavery" and now being a "time to educate and [a] time to act," according to the former, the duality of reverie and reality were not taken lightly by those in the room.
Former First Lady Michelle Obama also appeared in a videotaped message to urge the community to vote this November, highlighting how important it is to not wait until 2024 to let our voices be heard.
Jill Scott put all of those perspectives into focus with her spoken-word piece entitled "Agitation: Definition #3," which found her on an empty stage, with her notebook, expressing the pain of watching systemic changes consistently fail to pass. She ended her performance by giving us the universally Black symbol of "I'm fed up," by wordlessly throwing up her arms.
As the show began to wind down, the energy was ramped up to divine levels as Earth, Wind & Fire performed a medley of their iconic masterpieces, while Ne-Yo had people pumping their fists to "Give Me Everything." To close, honoring the Creator and for all of us becoming our ancestor's dreams made true, gospel stars Mary Mary were joined by Anthony Hamilton and Michelle Williams for the high note-inducing performance of "Optimistic," originally done by Sounds of Blackness.

It may have been the first time the world has seen Black freedom exemplified in such a way, but it surely won't be the last.
---
Kevin L. Clark is a screenwriter and entertainment director for BET Digital, who covers the intersection of music, film, pop culture, and social justice. Follow him on @IAmKevitoClark.