Commentary: The Shame in Shaming Amandla Stenberg
The actress has every right to get mad in public.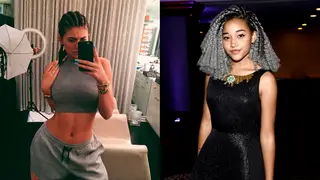 And as a kid, Kylie Jenner presumably has many adult years ahead of herself to consider some of the choices she's made as a very famous 17-year-old. She is a flesh and blood reminder to all of us who have survived teenager-dom that there was a time when our judgment was crazy, our clothes were crazier and our taste in men was tragic — but we believed everything we were doing was fantastic, as it was colored by the naiveté of youth.
Actress Amandla Stenberg is also a kid. A kid who is way in her feelings, calling out injustice with a passion usually reserved for the young and fired up. Fortunately, the actress has a lot of book smarts and more than her fair share of wisdom, meaning that when she calls it as she sees it, what she's seeing is usually spot-on. Which is why she was correct when she commented on an Instagram pic of Kylie sporting cornrows by writing "When you appropriate black features and culture but fail to use ur position of power to help black Americans by directing attention towards ur wigs instead of police brutality or racism…" 
After her post, Kylie responded and what was happening for a minute was an increasingly catty exchange between kids. And then the adults got involved and everything took a tacky turn. First, Justin Bieber. He left a comment on Kylie's photo that said, "Guys leave her alone…saying she's being a racist because she wants her hair in braids is ridiculous…smh."
Oh, Biebs, there are layers to this. Racism isn't one blanket thing, so you can be alright in many ways and racially insensitive in others.  And it is indeed racially insensitive to appropriate Black culture and pretend you are not; it is also flaunting white privilege to show off your cornrows and all your other trappings of things borrowed directly from Black culture and then not spend a moment of your time speaking up in support of Black lives and racial injustice. So, yes, cornrows are cute, but social awareness and protests are necessary if you're going to be a socially responsible person in this world. 
But Kylie is a child, she has a lifetime to learn that there is power in her celebrity that she could use to bring attention to racial injustice. However, Andy Cohen, Laverne Cox and Andre Leon Talley are not children. Which is why they should not go on TV and give 16-year-old Amandla the "Jackhole of the Day" award, which is what they did this week on Bravo. After Cohen gave the "award" to Stenberg, he asked Talley and Cox if "white girls in cornrows" were "yay or nay." They were fine with it and Cox went on to say, "Umm…Bo Derek."
Maybe they should both learn that what Bo Derek did was the very definition of cultural appropriation when she got her hair braided in a Black neighborhood so she would look "exotic" and stand out in a movie role. Maybe they should also support a young Black woman who is finding her public voice.
If people want to get rich off of real, Black housewives of Atlanta (Andy Cohen) or Usher's support when your career is beginning (Justin Bieber) or Black fashion, dance, beauty, art, music and slang (the rest of the world — including Vogue, Andre Leon Talley), then people need to take time to hear, pay attention to and not dismiss Black people's feelings on culture dipping. To do anything else would be childish.



The opinions expressed here do not necessarily reflect those of BET Networks.


BET.com always gives you the latest fashion and beauty trends, tips and news. We are committed to bringing you the best of Black lifestyle and celebrity culture.
(Photo: Kylie Jenner via Instagram, Michael Buckner/Getty Images for Women in Film)