'Tyler Perry's Sistas': Zac and Karen Are Too Close For Fatima's Comfort
In this week's episode, Zac makes some significant missteps in his relationship with Fatima.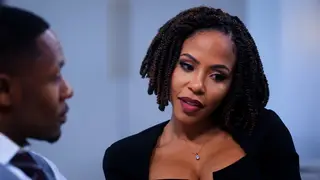 We're back on Andi's couch where we left off, with Karen about to tell us who her child's father is. But she's playing games. She won't say who it is because she wants to tell the father first "out of respect."
After the girls leave Andi's house, she gets a call from Gary asking if he can come over. She doesn't tell him no. They're all still a mess. Karen doesn't have insurance on her shop but reveals to Pam that Zac offered to help financially. Sabrina is trying to figure out how to make the money she has saved stretch since she hasn't been exonerated from her job yet. It's a lot.
Preston visits Zac to check on him. He was concerned about Zac after seeing how he reacted when Karen turned out alive. Fatima is noticeably not there; obviously, she felt a way about how Zac reacted to Fatima popping up. Preston is just trying to be a good friend. He is the only emotionally mature person on this show.
Back at Andi's house, we find her with Gary. She's indulging in silly conversations about whether they can successfully be in a relationship. She says she doesn't think they can be and Gary says he will keep trying. Andi says they should just be f buddies since they have great sex, and leave it at that. Why, Andi? Why? Because if you don't like him and notice all the red flags, why even bother letting him into your house? Anyway, Andi eventually kicks him out but whatever. He'll be back, and she'll entertain him.
Aaron visits Karen to ask what she needs. She tells him she has the money she needs to rebuild her shop. Then she starts pushing him away. You know, she doesn't trust him, yatta yatta. Aaron tries to convince her, once again, that he's genuine but Karen is cold and he eventually leaves. Karen calls Zac and tells her he doesn't hate her and loves her, just as Fatima walks up with the death stare. Zac offers to run her bath water and she is not with it. And we end another episode not knowing who the father of Karen's baby is, another storyline that will probably be dragged to infinity before we get any answers.