Errol Spence Jr. Says He's Been Through The Fire Leading Up To His Superfight Against Terence Crawford
In the highly-anticipated fight, he's putting up his three titles against his opponent's WBO title.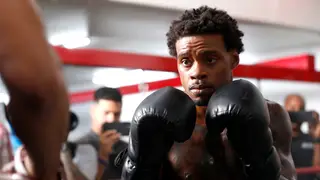 For over a decade, Errol "The Truth" Spence Jr., has been one of the preeminent fighters in the sport of boxing. At 5 '10, 146 lbs with a 72-inch reach, the former Olympian has etched his name into boxing lore as the current WBC, IBF, and WBA welterweight champion with an undefeated record of 28 wins with 22 knockouts.
Before turning pro, Spence was a highly-regarded amateur boxer winning the U.S. National Golden Gloves in 2009, and would go on to win three consecutive national amateur welterweight championships. In 2012, he represented the U.S.A. in the London Olympics before launching his professional career.
In what is considered his toughest challenge yet, Spence will go toe-to-toe with Terrence "Bud" Crawford on July 29th at T-Mobile Arena in Las Vegas. In this undisputed title matchup, Spence is putting up all of his hardware up against Crawford's WBO title to see who is the best pound-for-pound fighter in the world. Adding to the significance of the fight, it will be just the 13th unification bout in the storied history of the welterweight division.
BET.com caught up with Spence and he talked about what makes him the best boxer in the world, how he recovered from a near-fatal car accident, and why the timing couldn't be better for this long-awaited duel.
BET.com: If there is someone who's not familiar with the sport and all your achievements, what makes Errol Spence Jr., one of the top fighters in boxing?
Spence Jr.: It's my determination, grit,
 my pursuit of excellence, and how I bounced back from trials and tribulations. My name is at the top of the sport because nobody has been through what I've been through and is still fighting at a high level. Most guys could not come back and be one of the best fighters like how I did by beating the best competition out there, I believe that I am the best 147-pound fighter and the best boxer in the world. I can't wait to prove it this Saturday.
BET.com: In a fight of this magnitude, how important has your team been in keeping you focused on the task at hand with so many outside distractions?
Spence Jr: Having my team and family around helps me to zero in on the fight. I got my son and my dad here. My nutritionist stays with me to make sure I'm eating right and drinking enough water. My trainer Derrick James came up with the game plan and I'm following it. My strength and conditioning trainer is making sure that everything's fine with the physical aspects of my preparation. It makes everything a lot easier when you have a team that knows what they're doing. I have different people for different areas to make sure that I come into the fight at 100% and not worrying about anything.
BET.com: After surviving a horrific car accident in 2019, you worked your way back into top form. In your recovery, was it more challenging for you mentally or physically?
Spence Jr.: The mental hurdles were worse than the physical challenges sometimes. I had to keep telling myself that I was going to get back to where I once was while my body was in pain. I had to push through it all because I owed it to those who were supporting me. My kids were the main motivation because if I quit, how could I tell them to keep going when things get hard in their life?
For me, it's about being that role model to show them that when it gets hard to go out and try to get it done. If it doesn't happen, then know that you tried everything to make it happen. That's basically what I did and it worked out for me. The car crash wasn't an ending for me and neither was my eye surgery. I came back from all the trials and tribulations that I had and I'm still at the top, putting on great performances, and still fighting the best competition that's out there.
BET.com: What type of impact will this fight have on the sport of boxing going forward?
Spence Jr.: It's going to be huge. You have two of the best fighters in the world, in the same weight class, fighting for all the marbles to decide who's the best. It's rare that you have two, top-five pound-for-pound fighters fighting each other in their prime. This is something that is like a movie. I'm so ready, man. I can't wait for people to come out and order the fight on Showtime pay-per-view. I want everybody to support the fight so boxing can have more big fights like this in the future.
BET.com: Lastly, what would a victory over Crawford do for your legacy?
Spence Jr.: Winning this fight would mean a lot to my legacy. It will make me legendary. I'm so excited about the fight because it's at the right time and you have two of the best fighters in the world in their prime. This is what boxing needs and this is what the sport's world needs
WBC, WBA, and IBF Welterweight World Champion Errol "The Truth'' Spence Jr. will take on WBO 147 Welterweight World Champion Terence "Bud'' Crawford for the Undisputed Welterweight World Championship on Saturday, July 29  at T-Mobile Arena in Las Vegas, Nevada or on SHOWTIME PPV.