Ex-NFL Star Deion Sanders Says Botox Changed His Life
New face, who dis?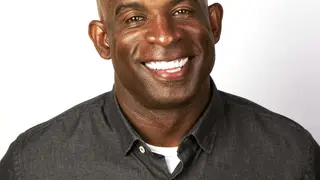 Apparently, former NFL superstar legend Deion Sanders was concerned about his looks. And he had no qualms trying Botox for a test run.
Why is this news, you ask? People talk about getting Botox all the time — false! White women are usually the ones openly talking about Botox. 
This is major because Deion, along with other male celebs like John Legend, is not ashamed to break down existing toxic masculinity barriers on what's acceptable for Black men to do to their physical appearance. Cheers, gentleman! 
In an interview with Entertainment Tonight, the former pro athlete said, "I noticed frown lines and crow's feet, I am like, 'I have got to do something about this!'"
Guys if you're like me, you may have to look up what exactly are "crow's feet." Sounds really disgusting and I thought it was bad feet from running on the fields all those years! 
But crow's feet are actually those wrinkles at the outer corners of the eye. Ladies, keep those eyerolls to yourself—sorry, I didn't know!
At the golden age of 50, Deion wants to look his best and he's not ashamed to say he took, what some would say,  extreme measures to preserve *coughs* or restore his look.
And we get it and appreciate the conversation! "I am open about everything. I don't do things in the dark… That is how I live," he shares.
After his Botox treatment, he felt like a new man. "Fifty is the new 21. I feel young, I feel very energetic, I feel like taking on the world. I feel like challenging people to work out, to live right, to eat healthy, to make the proper decisions in life. I really feel good. I am in a really good place in life." 
When it comes to societal gender barrier associated with Botox, Deion admitted he wasn't afraid to break it as it relates to what is deemed "masculine" versus "feminine."
"There are a lot of things that I have been the forerunner of," he said. "So, I had never played football and baseball in the same day, so I did that. So, I don't mind being a leader when it comes to this because it really helps. I feel like I look good, and I feel good."
Guys, our childhood NFL hero is telling us that there is possibly new life with a little Botox treatment. Pharrell, you told us all we needed to do is exfoliate like a madman and drink water. I am confused! Ugh. But, I do love this progressive move as it relates to grooming options for men.
I will share a secret about males and Botox actually. Ladies, a lot guys go regularly for Botox treatments to help control sweating. It's a whispered conversation, but maybe after Deion, guys won't be so shy about admitting they get a little dab here (and try above their shoulders as well!)
Deion's final comments for the ET interview were: "I feel like at halftime in my life, and now it's time to go into the locker room and reassess things and come back out with a whole new plan."
This new plan most likely consists of my more Botox! What? You gotta admit he looks really youthful after his procedure!