Cardi B Addresses Latest Ghostwriting Rumors; 'Come To A Studio Session!'
The Grammy Award-winning rapper has been dropping one vicious feature appearance after another.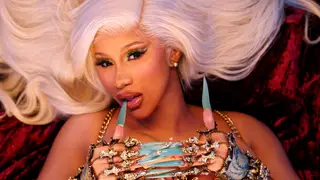 It's been the summer of Cardi B, with features like her appearance on Latto's "Put It On Da Floor Again," released last month to FendiDa Rappa's "Point Me 2," that dropped on Friday.
The heat has sparked age-old rumors that the 30-year-old rapper doesn't write her own rhymes.
Carl Chery, Spotify's Head of Urban Music, chimed in with an opinion on the new track praising Cardi's feature, tweeting, "I don't care who writes it. Cardi B is hard AF!"
The "Bodak Yellow" rapper responded to the tweet, writing, "I WRITE IT ….Come to a studio session!," she also shared a picture of the song's credits.
Fans also jumped to Cardi's side, with many defending her skills. While others added that the art is what matters.
Cardi has previously used a support team of writers, including on her debut album Invasion of Privacy. Producer Pardison Fontaine helped her with three of her biggest singles, "Bodak Yellow," "Be Careful," "Money," and more.
However, she maintains that despite getting some assistance, she has been writing her big hits since her mixtape days.
Either way, most recently the superstar mom of two has been killing it serving looks all across Paris for Fashion Week including a gorgeous statement look for the Schiparelli show featuring a massive black feather bolero, against a black corseted gown accented with gold stitching and buttons. She took the look over the top by tucking her hair in a low bun in a matching cap that effortlessly showcased her gold statement earrings, along with matching gold bangles on both arms.
Schiaparelli posted a slow-mo video of the ravishing rapper, dubbing the fashion moment as "Cardi Couture.