Chlöe and Halle Bailey Land New Roles as Crocs' and Neutrogena's Newest Ambassadors
The sisters have released a shoe collection under their performance moniker Chlöe x Halle.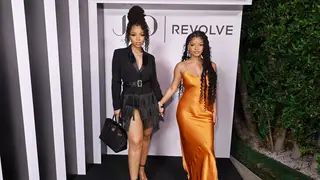 The Bailey sisters are getting to the bag. Halle is a global superstar as the lead in Disney's The Little Mermaid and Chloe is shining with a popular R&B album and several films and series. The sisters are also the newest global ambassadors for Crocs.
They announced the collaboration in a TikTok video where they played the popular "This or That Challenge."
Their signature collection features several gorgeous pairs of the comfy shoes including several pairs of platforms.
The adorable collection also features a set of "Under the Sea" inspired Jibbitz to accent the Crocs!
The 23 and 24-year-old sisters are also ambassadors for Neutrogena. 
In announcing that partnership, Chloe said, "We've loved Neutrogena ever since we were little girls—we've always used their products and loved how the products have worked and felt on our skin," she added. "I remember as kids, we would be in the bathroom trying to re-enact their iconic face splash moment from their commercials and now, we get to be a part of this iconic brand. I'm just so happy that we're sisters doing this together as their first-ever sister duo ambassadors. I love that I get to do this with my best friend."