Nia Long Views Her Separation from Ime Udoka as a 'Transformative Wake-Up Call'
"I had to come to a place where loving myself was bigger and more important than saving anybody."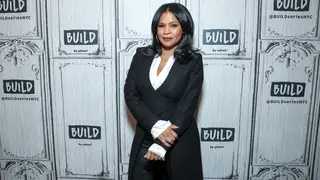 Nia Long deserves better. And she knows it now more than ever.
"The Fresh Prince of Bel-Air" veteran discussed her split from her ex-fiancé Ime Udoka while speaking with Jeezy to promote his new album "I Might Forgive… but I Don't Forget." Long described her broken engagement as cathartic and self-affirming.
"I had a really public breakup recently," she told Jeezy. "It was a wake-up call for me in the sense of like, 'OK, you're going to do this on your own and you're going to be fine and you're not going to worry about what anyone thinks and has to say.'"
Long admitted that their relationship was rocky for a very long time, adding that she doesn't believe another person can break a couple up.
The "Best Man" star and Udoka were engaged in 2015 and share 12-year-old son Kez. They met in February 2010 when Udoka was playing for the Sacramento Kings and Long was in Boston filming a pilot for NBC. They were introduced by a mutual friend while Udoka was playing against the Celtics.
Udoka and Long separated last year after 13 years together following allegations that the former Boston Celtics head coach had an affair with a female subordinate within the team's organization.
Her breakup with her ex-partner had an impact on her and her 22-year-old son, Massai, from a previous marriage. Long's conversation with Jeezy on navigating divorce and embracing self-love has initiated a dialogue on social media surrounding mental health, love, forgiveness and the process of healing from past traumas.
"I think my older son saw me trying to keep the family together," Long said. "But I had to come to a place where loving myself was bigger and more important than saving anybody."
"I believe I'm in the right place. Some days, I'm completely fine, and then on other days, I feel like, 'Oh God, this feels like so much work.' And then, there are times when it seems like women shouldn't have to be this strong. I don't always want to carry this level of strength."
While wiping away tears, she continued, "No, I'm okay. I mean, listen, it is what it is."