Hip Hop Awards 2022: How Lil Baby Always Brings Diamonds and Style To The Stage
Lil Baby's stage style is iced out and fashion forward.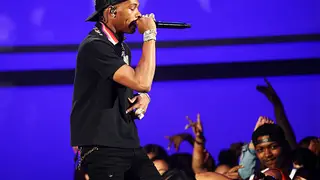 Lil Baby is one of the biggest rappers on the planet and he shows it with his performance wear. You can always find the star with ice on his neck and wrist while wearing the hottest fashions. Let's take a look at some of his recent performance outfits as we gear up for this year's BET Hip Hop Awards 2022.
Budweiser Stage

Lil Baby keeps it simple in a white shirt and blue shorts at Budweiser Stage.

Coachella

Lil Baby goes full rockstar in leather at Coachella.

Water Music Festival

Lil Baby lets his ice shine at the 2022 Something in the Water Music Festival.

One of Them Ones tour

Lil Baby performs in a green outfit at the One of Them Ones tour stop in DC

Lollapalooza 2022

Lil Baby dons a Fendi sweat suit at Lollapalooza 2022.