DJ Casper, Creator and Singer of 'Cha-Cha Slide,' Dies at 58
The Chicago native died after a battle with cancer.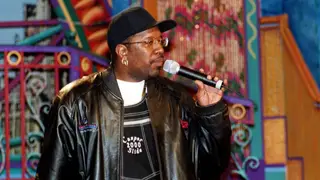 DJ Casper, the creator and singer of the iconic dance song "Cha-Cha Slide," died on Monday (Aug. 7) at 58 after a cancer battle.
Casper, whose real name was Willie Perry Jr., was born in Chicago in 1965. He began his career as a DJ in the early 1980s and quickly became known for his energetic sets and crowd-pleasing mixes. In 1996, he released "Cha-Cha Slide," which quickly became a hit. The song's simple lyrics and catchy beat made it easy to learn and dance to, and it soon became a staple at parties and social gatherings worldwide.
"Cha-Cha Slide" was certified gold by the RIAA in 1997, and it has been featured in numerous movies and TV shows, including "The Fresh Prince of Bel-Air" and "Glee". 
In an interview with Chicago's ABC7, Casper talked about not realizing how his song was going to be a hit.
"When I first did it, I did it as an aerobic exercise for my nephew at Bally's," Casper said. "From there, it just took off. Elroy Smith from WGCI grabbed ahold of it."
"I have one of the biggest songs that played at all stadiums: hockey, basketball, football, baseball; they played it at the Olympics," Casper said. "It was something that everybody could do."
Condolences to his family.