Michael B. Jordan's Reaction To Tiffany Haddish Claiming She Won't Shave Her Vagina Until They Have Sex Is Priceless
Pure comedy!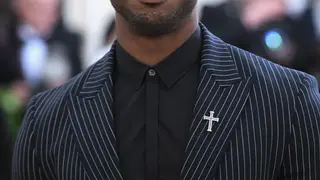 The Night School comedian tried her hand at the Black Panther star with the assistance of The Breakfast Club co-host Charlamagne Tha God. During Michael B. Jordan's recent appearance on the popular morning show, CTG revealed Tiffany Haddish's refusal to shave her lady parts until she has sex with the actor.
Jordan, who happened to be sipping some water, almost choked when CTG asked if he'd make Tiffany Haddish's request come true. "What you mean? That ain't got nothing to do with me. That's the first time I'm hearing about it," he laughed.
This isn't Tiffany Haddish's first time shooting her shot with the Black Panther star. Earlier this year, she made some not-so-subtle shots while accepting the Best Supporting Actress award at the New York Film Critics Circle dinner.
Check out Michael B. Jordan's hilarious reaction in the video below. Tune in to 17:01 for his hilarious response.