Bill Cosby Sounds Off on the GOP
Bill Cosby slams Republican lawmakers' behavior at President Obama's State of the Union address.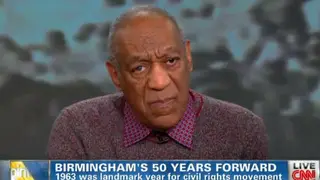 It's no secret that comedian, actor and educator Bill Cosby is a man of strong opinions. This week he compared congressional Republicans to civil rights era segregationists, Mediaite reports.
Speaking on CNN's Starting Point, Cosby expressed offense over Republicans who didn't rise from their seats during President Obama's February State of the Union address. To be fair, the opposing party traditionally sits stone-faced at such events, rising to applaud during rare moments of bipartisanship agreement, while members of the party that controls the White House stand up to cheer whenever possible.
But to Cosby the Republican lawmakers' inaction smacked of racism.
"To see people sitting down when there are others standing and cheering. I think we have people sitting there who are as bad as the people who were against any kind of desegregation," he said. "And then in place of a better America, they want their own sick feelings put across, and it's — it isn't — it isn't a good time, but I think, also on our part as professors and presidents of colleges all over, and in public schools, we need to get the education of the correct history that happened so people can say, 'Yes, this really did happen.'"
Cosby also lamented that the Republican Party has changed over the years and not in a good way.
"It's also interesting that this Republican Party is not the Republican Party of 1863, of Abraham Lincoln, abolitionists and slavery, is not good," he said. "I think it's important for us to look at the underlying part of it. What is the value of it? Is it that some people are angry because my people no longer want to work for free?"

BET Politics - Your source for the latest news, photos and videos illuminating key issues and personalities in African-American political life, plus commentary from some of our liveliest voices. Click here to subscribe to our newsletter.