Oprah Winfrey To Host Virtual Voter Town Halls In Key States Ahead of Election Day
OWN Your Vote will be available for those in key battleground states.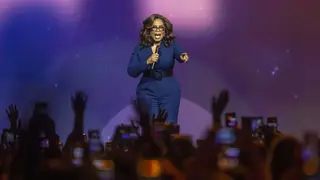 Oprah Winfrey has been a long time advocate for voter engagement and tonight, (Oct. 26) she'll spearhead her latest effort that will connect her with citizens in key states ahead of the 2020 election. The OWN Your Vote program will inspire and encourage people who tune in to get out to the polls and vote. 
Winfrey announced that her virtual town halls would start in Wisconsin on Oct. 26, followed by North Carolina on Oct. 27, Michigan, Minnesota, Ohio, and Pennsylvania on Oct. 28, and then wrap up with South Carolina on Oct. 29. The events will all take place each evening at 8 PM EST/7 PM CT. 
These free public meetings will feature Winfrey speaking with local citizens "to ensure as many as possible are prepared with resources, information, and inspiration ahead of the General Election," according to a press release. 
Joining Winfrey for the virtual events will be a number of hosts described as "national thought leaders" and "voting rights experts." These include Brittany Packnett Cunningham, the Undistracted podcast, Wisconsin 4th Congressional District Representative Gwen Moore, Mayor of Charlotte Vi Lyles, the NAACP Detroit Chapter Executive Director Kamilia Landrum, activist Tamika Mallory, and more.
In addition to these thought leaders, Winfrey's event will also include representatives from women's organizations such as the Alpha Kappa Alpha Sorority, Delta Sigma Theta Sorority, and the Black Women's Roundtable.
To join the townhalls, which are again free and open to the public, registration is available in advance at zoomwithoprah.com.