WTF? KFC Is Now Selling Beauty Products
They want you to smell finger lickin' good!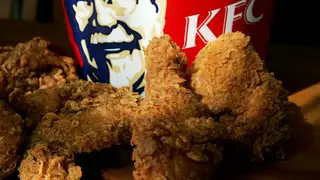 Fried chicken is just one of those delicious aromatic smells that you cannot deny. You can practically smell the crunch.
Who doesn't love the trail of deep fried chicken coming from your grandma's kitchen — or the overpowering aroma that comes from your favorite fast-food restaurant?
And now Colonel Sanders is challenging your love for your deep fried addiction by catering to more than your taste buds. 
If you want to smell finger lickin' good, you have to be willing to travel, as the drumstick shaped bath bomb will only be available in Japan.
With only 100 available from Nov. 1 through Nov. 15, you have to move fast to follow the official KFC Japan Twitter and retweet the tweet above.
With over 17k retweets, it must be the move! This leaves us wondering is there that much love for chicken?
Would you take a soak with the new bath bomb or nah?