Perfect Shaquille O'Neal Impersonation By Jay Pharoah At The NBA Awards Had Everyone Cracking Up
From his Charles Barkley, Drake and LaVar Ball monologue jokes to his "Stir Fry" remix, Shaq proved he's the host with the most.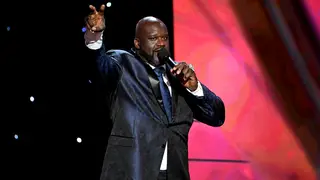 Shaquille O'Neal is a man of many talents.
Most know him as a decorated NBA veteran who led the Los Angeles Lakers to three NBA titles before teaming up with Dwyane Wade and winning another championship for the Miami Heat.
If you're more of a music fan, you may remember Shaq Diesel, the rap moniker O'Neal assumed during the early 1990s, which culminated in a platinum-selling debut album.
Now, many are getting familiar with Shaq's comedic side. If you're a modern-day NBA fan, you might be familiar with his antics on TNT's popular program Inside the NBA, which features the big man along with Charles Barkley, Kenny Smith and host Ernie Johnson. On it, Shaq often brandishes his funny side, with back-and-forths between him and Barkley becoming legendary over the years.
Most recently, Shaq's comedic ability was on full display Monday night (June 24) as he hosted the 2019 NBA Awards in Santa Monica, California.
He began by joining the stage and spitting a few bars, having everyone reminiscing of his Shaq Diesel days, and even showed off a few dance moves with the famed dance crew Jabbawockeez. He then broke into his monologue, which took aim at Barkley, Drake and others.
Perhaps the most hilarious part, though, was when O'Neal made reference to the brand new Anthony Davis trade. He suggested that the Los Angeles Lakers gave up so many players and draft picks for All Star power forward they "literally had to cut their 'balls' off to make the trade." He then pointed to a picture of LaVar Ball and his son Lonzo, who was one of the players sent to New Orleans as a part of the trade.
Shaquille O'Neal wasn't above being made fun of himself. Famous comedian and impersonator Jay Pharoah provided a hilarious impression of Shaq, Barkley and Smith later on in the program.

Twitter also reacted to Shaq's jokes. See what they had to say below.