Ice Cube Says Warner Bros. Rejected His 4th 'Friday' Movie
The long-rumored final movie of the 'Friday' franchise is reportedly still on the way, maybe?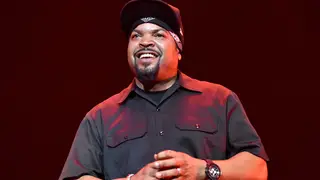 Ice Cube is speaking out about how Warner Bros. Studios rejected his fourth Friday movie.
On the latest episode of the Drink Champs podcast, Ice Cube gave fans an update on the next installment of his classic Friday franchise. The fourth and final movie has been long rumored to be on the way since Friday After Next was released in 2002.
According to Ice Cube, the film was reportedly in the works but was later blocked by Warner Bros.
"I had two scripts. I wrote one, it was the s**t. They were like, 'Yo, we don't want Craig and Day Day in jail.' 'Cause Craig and Day Day went to jail for selling weed before it was legal. I was like, 'What you mean? This s**t is funny.' Then after they rejected it, they had all these f**king movies about going to jail," Ice Cube shared regarding the first script he wrote.
Adding, "The other script was about the youngsters in the hood having beef with the OGs in the hood and Craig has to come back and squash that because Smokey's son is the new Deebo and he's wilding."
The original Friday debuted in 1995 and starred Ice Cube, comedian Chris Tucker as Smokey, as well as late actors John Witherspoon as Willie Jones and Tommy "Tiny" Lister Jr. as Deebo. The original was followed by Next Friday (2000) and Friday After Next (2002), which both starred Mike Epps as Day-Day.
It is still unclear when the final Friday movie, reportedly titled Last Friday will premiere.