Bobby Shmurda Talks His First Project Release Post-Prison And How Today's Hip Hop Is 'Predictable'
The rapper also shares an update on his new album 'Ready To Live'.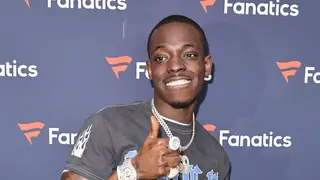 Bobby Shmurda is back and is better than ever! The newly-turned 28-year-old released his EP BodBoy on August 5. The nine-track project featured a guest appearance from Rowdy Rebel and spawned the hit single 'Hoochie Daddy'. The rapper has been out of prison for over a year now and is already reminding us to not count him out due to his extended absence.
In this BET.com exclusive interview, the rapper chats about the new project, his upcoming album "Ready To Live," and which celebrity he wants to shoot his shot at.
BET.com: There seems like such a light when we see you on social media, it's like you're having fun and living life unapologetically. Was this side always in you and if so, what makes you want to show it more publicly?
Shmurda: This side was always a part of me but due to certain narratives, I was unable to show this side of me. Anyone who truly knows me from Instagram way back in the day knows I was doing the same stuff you see now — I just had a different machine behind him back then pushing a certain narrative of me. Now when I'm able to speak to reporters like yourself and you get the narrative I personally want to push out, it's a lot better because this is who I am. I want to be clear the machine doesn't make you act a certain way, but it does make you look a certain way. The machine says what's cool for me to do and what's not cool for me to do — as long as I'm making them money, everyone is happy.
BET.com: What was the direction for Bodboy and how do you feel this body of work evolved you as an artist?
Shmurda: This project is an independent project so, after this one, I can gauge who really is a Bobby Shmurda fan. You know I had a machine behind me before so it's different — with social media, people can spread a bunch of misinformation and rumors. For me, when I'm able to meet people face to face, it's a whole different vibe. Now, it's me showing everyone who I am and no matter what, this is me. I'm not like these other rappers — I'm naturally like this. These rappers have machines behind them so they pretend to be like that.
BET.com: You have a hit single called "Hoochie Daddy". Describe hoochie daddy in your own words.
Shmurda: A lady's man. I don't do relationships right now. I know when I'm ready to enter into a committed partnership with someone. Right now, I'm still young and I want to explore life still and party. I'm like Keith Sweat [laughs].
BET.com: That record is very different than what folks may be used to hearing from your catalog of work… are you experimenting with new sounds for the upcoming full album due later this year?
Shmurda: I made songs like this back in the days and unfortunately it wasn't able to be released due to me going to prison. I was telling Ebro earlier because many artists are concerned with songs like 'Hoochie Daddy' — is it still going to make me gangsta? I tell people I don't make music for gangstas — this is for the girls. If she makes me feel like dancing, I'm gonna want to dance. It's like if Mary J. Blige was singing to me — if she sings to me, I get a little turned on [laughs]. I don't care how old she is [laughs]. That's the only woman that can make me turned on just by her voice bro. For the upcoming album, I'm making music — I don't make drill music. I used to sell crack listening to Michael Jackson. I do whatever I want and whatever I feel.
BET.com: So far, have you accomplished any of the goals you had set for yourself? Is there a goal you're trying to reach by the end of the year?
Shmurda: I fulfilled one of my hoochie daddy goals which was to have sex with 10 girls in one day [laugh]. It was a time I won't forget. As for a goal I'm trying to reach by the end of the this year, I'm tryna bag Yara Shahidi. You could hook me up with that?
BET.com: You have to show her why she should be with a man like you.
Shmurda: Tell her give me six months so I can finish being a hoochie daddy and finish my tour [laughs].
BET.com: When can we expect the album to come out?
Shmurda: The album will be dropping either later this year or top of next year because we're working on making sure we get all the clearances together right now — that can take up to 90 days. My album 'Ready To Live' has a variety of artists who will be appearing. I have Meek Mill, Da Baby, Cordae, Rich The Kid, Fivio Foreign, Key Glock, Lougotcash, 42 Dugg, Fat Tony, and G59 Gino.  I'm also trying to add some pop records as well.
BET.com: If you could snag a pop artist to appear on the album, who would you choose?
Shmurda: Adele or Dua Lipa. I love the record 'One Kiss' with her and Calvin Harris. I'm waiting to run into them as I like to talk to people personally.
BET.com: What do you feel hip Hop needs right now and how do you plan on bringing that to the table?
Shmurda: It needs life as it feels too boring right now — it's predictable. It's like every rapper has braids and wants to harmonize. I don't want to hear that 24/7. I don't want to hear no crying on a record all day — I need to dance.
BET.com: Even with all the projects artists have dropped lately?
Shmurda: It's too much autotune and it's too much singing. I can't just listen to signing shows — it makes me go crazy [laughs]. I need some artists to wild out and sound like how DMX did.
BET.com: Who do you feel is bringing the "umph" right now in Hip Hop?
Shmurda: Rowdy Rebel and Da Baby. Don't get me wrong, I like everyone but I need a good balance. Bobby Shmurda Talks His First Project Release Post-Prison And How Today's Hip Hop Is 'Predictable'
---
*This interview has been edited for length and clarity
Ty Cole is a New York-based entertainment reporter and writer for BET.com who covers pop culture, music, and lifestyle. Follow his latest musings on Twitter @IamTyCole.