Bad Idea: Sherri Shepherd Hoped Baby Would Save Marriage
Not surprisingly, it only made things worse.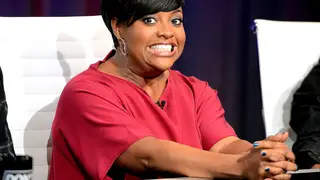 Except for one very awkward moment on The View, Sherri Shepherd has basically avoided discussing her ugly divorce from Lamar Sally and their even uglier custody battle. On Wednesday, however, the former View host finally broke her silence on the matter and admitted the baby they had via surrogate was a last-ditch attempt to save her marriage.
Speaking to People magazine at the Children of Promise fundraiser, Shepherd said, "My situation was a sense of, I didn't state what I needed and what I wanted and what I didn't want for being scared of somebody leaving the relationship. There are consequences to everything, but I was scared to say, 'That's not going to work for me. I don't want that.'" 
The consequence, of course, is the now 1-year-old daughter who Sally has sole custody of, but Shepherd supports financially. A judge ruled that the talk show host must be named on the baby's birth certificate since they began pursuing surrogacy in 2011, just after they were married. Before the baby was born, they were already battling it out over custody, with Shepherd — who is already mom to a 10-year-old son from a previous relationship — claiming her ex defrauded her with the surrogate pregnancy as a way to get a big payday.
"I am appealing the ruling that happened and he gets his settlement every month," she said of Sally. "He's happy. There nothing I can do. It's out of my hands. You move on and I have a son. I have to take care of him so everything is good." 
Shepherd is trying to keep her spirits up, though. "I'm the type of person I feel like as long as you can get up, you have another chance," she said. "I've gone through stuff, a nasty divorce, nasty custody battle, but for me, I get up and I smile. I go through it and I make it through." 
Hopefully the same can be said of the little baby girl caught in the middle of this mess.
(Photo: Andrew H. Walker/Getty Images)
BET.com is your No. 1 source for Black celebrity news, photos, exclusive videos and all the latest in the world of hip hop and R&B music. 
Click here to enter the #LookYourSundayBest contest for a chance to win FREE natural hair-care products.