7 Foreign Films and Shows To Stream Right Now
Check out BET.com's specially curated list of international media to watch before the jet-lag sets in!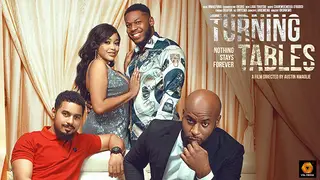 Now that the summer festivities are in full effect, jet-setting across the world to your next international destination (COVID-19 safe, of course) is on several vacationers' to-do lists!
We all know when traveling on long and sometimes uncomfortable flights, the one thing that gets us through the grueling hours in the air is binge-watching our favorite films and shows. 
But if you are caught up in your normal media playlist, you won't regret lining up cinema from Africa and South Africa next.
To get you started with just a few movies and television shows, BET.com has curated a special international list of entertainment that's worth streaming right now.
Collision (Netflix South Africa)

Directed by Fabien Martorell, Collison follows the story of corruption and racism that has taken over the lives of residents in Johannesburg, South Africa. 

The can't-miss film also stars Langley Kirkwood, Zoey Sneedon, and Siphesihle Vazi.

Queen Sono (Netflix South Africa)

Playing a South African spy (Pearl Thusi) is Queen Sono, who places herself in a dangerous web of business and politics while trying to find the truth about her mother's death. 

The series, which Kagiso Lediga created, also stars Vuyo Dabula and Loyiso Madinga. Don't sleep on this one at all, cinephiles!

How To Ruin Christmas (Netflix South Africa)

This South African dramedy, with two seasons under its belt, stars the late Busi Lurayi, who plays Tumi Sello, as she attempts to right her wrongs after ruining her sister's Christmas wedding. 

The series, directed by Johnny Barbuzano, also stars Thando Thabethe, Clementine Mosimane, Yonda Thomas, Sandile Mahlangu, and more.

Doctor Lanre (Prime Video)

Directed by Ayoka Thompson, Doctor Lanre stars Okey Uzoeshi, Femi Branch, and Bolaji Ogunmola, following the sudden death of a patient for who a doctor refused treatment. 

Now with an investigation now underway, multiple suspects in the case make it even more challenging to figure out who was behind the incident.

Turning Tables (Prime Video)

Starring Ben Lugo Touitou, Uche Nwaefuna, and Chioma Okafor, Turning Tables see a successful divorce attorney who winds up in an affair with one of his clients who is going through a tumultuous divorce of her own. 

As their love quarrel intensifies, a series of unfortunate events is not too far behind.

Jiva! (Netflix Africa)

While a street dancer tries to find the balance between her dead-end job, family responsibilities, and love life, she soon comes across a dance competition with an eye-catching cash prize that could change her life. 

Jiva! Stars Noxolo Dlamini, Candice Modiselle, Sne Mbatha, Stella Dlangalala, Zazi Kunene, and more.

Amandla (Netflix Africa)

After surviving a childhood tragedy, two brothers find themself on opposite ends of the law as a controversial crime tests their true loyalty to one another.