Tokyo Toni Slams Eminem Over Snoop's 'N***a' Comment
"You are a f*****g white boy," she said.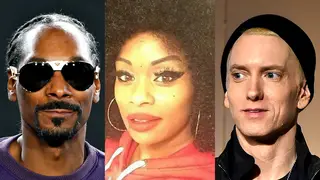 Eminem's now viral anti-Trump freestyle was the talk of the 2017 BET Hip Hop Awards — and the entire internet — the past few days. While everyone except Fox news is praising him for his performance (most notably, Snoop Dogg, who went as far as to claim him as an "honorary n***a"), one person who doesn't share the sentiment is Blac Chyna's mom Tokyo Toni. 
It all started when Snoop shared his opinion on Eminem's politically charged rhyme:
Snoop's choice of words didn't sit well with Tokyo Toni, who took to Instagram Live to share her gripe on the situation with her followers.
"Boy will never be a n***a," she said. "No, Eminem. You are a f*****g white boy that spoke a bunch of bulls**t. Who the f**k you think you playing with?"
Watch her full rant, below:
Recap Eminem's much-discussed performance in the BET video, above.