Megan Thee Stallion Blessed Fans With Her Impressive Twerking Skills On Instagram
That thang was thangin'! 🙏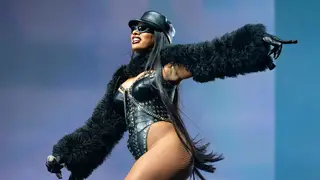 Megan Thee Stallion and her buxom cakes had the internet in a frenzy.
On Tuesday (June 28), Meg posted a short video of herself highlighting her impressive twerking skills. The Instagram clip showed the southern belle throwing that a** in a circle, among other twerktastic moves.
The 27-year-old college graduate captioned the vid, "All [homegrown] from da mf soufffff🍑🍑🍑🍑🤘🏾🤘🏾🤘🏾🤘🏾"
The internet went up for Meg.
Fellow Houston emcee Erica Banks asked, "What did we do to deserve this 🥹🔥"
Detroit rapper Kashdoll wrote, "Whewwwww."
JT from City Girls hyped her homie up, writing, "REMIND THESE HOES!!!!!!😍😍😍😍😍"
Meg's video on IG garnered almost 2.5 million likes, but the love extended to Twitter.
Fans also wanted to risk it all for the pretty "Savage" rapper.
Outside of twerking her a** off, Meg has been living her best life since graduating from Texas Southern University with a bachelor's degree in Health Administration in December.
The talented emcee recently let her hair down with friends in Ibiza. She gave a hilarious recap of her trip on IG. The  Texas bombshell twerked, turned up in a luxurious mansion and sailed the seas with her squad.