Khloé and Lamar Are Making It Hard to Believe They're Not Back Together
Is the happy ending we've been waiting for finally here?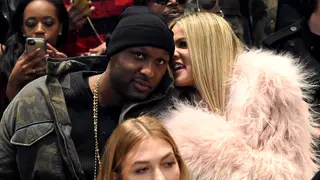 Khloé Kardashian split from her boyfriend James Harden last month and revealed on her talk show that it was because he cheated on her. Now, looks like she's rebounding with a new man — actually, an old man. Her husband, Lamar Odom.
The unconventional couple have been seen acting like it's 2010 all over Los Angeles recently. The had an intimate dinner at Ruth's Chris Steakhouse on Friday night, and then attended Easter services together — with Kourtney Kardashian's kids in tow — earlier today.

Both times, Lamar looked like that near-fatal drug overdose happened to somebody else. The former athlete seems fit, happy and healthy. According to a source, his love life is a big motivation. "Khloé has been his inspiration," a source tells Hollywood Life. "He still has caregivers to keep an eye on him, but he's been practicing basketball and hitting the gym and weight room. His dreams of returning to the NBA may be far from reality, but his hope of what might be possible is keeping him motivated to make progress and work hard every day."
The source continues, "Just like returning to the NBA may be a pipedream, so is a reconciliation with Khloé, but both are dreams of his and keep him dedicated to work hard. If he can achieve either dream, NBA or get back with Khloé, it would be the ultimate comeback."
From the looks of it, a reconciliation is far from a pipe dream. In fact, we wouldn't be surprise if it becomes a plotline on the next season of Keeping Up With the Kardashians.
Check out an update on her relationship with Lamar in the BET Breaks video, below:
BET.com is your No. 1 source for Black celebrity news, photos, exclusive videos and all the latest in the world of hip hop and R&B music.