Sterling K. Brown Says Upcoming Role is 'Completely Different' from That of 'This Is Us'
The Emmy award winner promises the new role will have "some heart."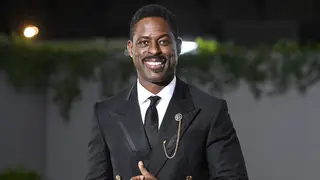 Sterling K. Brown is reuniting with This Is Us creator Dan Fogelman for an upcoming thriller that promises to show viewers a "completely different" side of the Emmy-winning actor.
"It's not Randall. The character is completely different, completely different milieu," the actor said of the new series at the premiere of his latest film Biosphere "But you know Dan — he can't help but throw some heart in there. There is always going to be heart."
Not much is known about the untitled series, but according to Variety, Brown portrays the head of security to a president.
Brown and Fogelman initially worked together on This Is Us from 2016 to 2022 when the show ended after six seasons. The drama series followed the ups and downs of three siblings, portrayed by Brown, Chrissy Metz, and Justin Hartley, and their families throughout different time frames.
During that time, the acclaimed series earned 290 nominations with 66 award wins, per IMDb. This also includes Brown's 2017 Primetime Emmy Award score for Outstanding Lead Actor in a Drama Series.