Regina Hall and Sterling K. Brown Share They Would Ask Jesus For "Patience" And "Healing" And What It Takes To Be A Strong Actor
Brown and Hall star in the film Honk For Jesus, Save Your Soul, which is in theatres and available for streaming on Peacock today.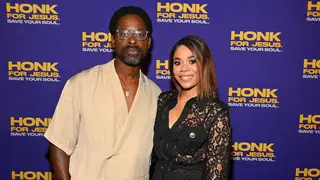 Honk the horn on 'em, Regina Hall and Sterling K. Brown.
Hall and Brown star in the Jordan Peele-executive produced film Honk For Jesus, Save Your Soul.
The new film is a mockumentary-styled comedy that follows the first lady of a Southern Baptist megachurch, Trinitee Childs ( portrayed by Regina Hall), and her husband, Pastor Lee-Curtis Childs (portrayed by Sterling K. Brown). The movie's premise deals with a scandal forcing their church to close temporarily. To win back their parishioners, the couple must work together to regain the trust of their congregation.
In an interview with BET.com, Hall and Brown chat about the film, what their one ask from Jesus would be, and how they want the audience to engage in critical thinking within their own lives.
BET.com: This is a mockumentary-styled film following Lee-Curtis and Trinity Childs. If cameras were to follow you, what would be one thing viewers would see that would shock or surprise them?
Hall: How busted I look [laughs]. If only they saw what [Sterling] sees in the morning in my sweatpants.
Brown: Regina comes to work like she is unhoused — just slightly [laughs]. With [Regina] being from D.C., I assumed everyone knew how to dress. She told me not to stereotype people and give them the space to be who they are. As for me, I use language that everyone thinks I wouldn't use by how I'm perceived over the past six years.
BET.com: Trinitee is a Prada girl. What's Regina's favorite label to rock?
Hall: On a day-to-day, I like to wear Frame because it's simple. The truth is, someone would say I'm rocking Nike most of the time due to wearing sweats — I wear sweats every day.
BET.com: You're rocking the baggy sweats? I resonate with that.
Hall: But yours is probably fresh. I have a closet full of new clothes, so it surprises me when I see how some of my clothes are faded — I still wear them.
BET.com: If you could "Honk at Jesus" and ask Him for one thing, what would you ask?
Brown: I would ask for more patience — I have two kids and a wife at home, and sometimes, I want to give people the space to be who they are without being aggravated.
Hall: I would ask for the power to heal people even though I'd probably be tired [laughs]. I would even ask to come up with a cure for different things, too.
BET.com: Trinitee describes what it takes to be a strong first lady. What does it take to be a vital actor?
Hall: I would say patience. It's a long process to get to where you want to go.
Brown: What I like about Regina as a performer is how open she is — there's a fearlessness about her where she's open to trying anything. I will also say she's an intellectual — how she thinks through characters and choices shows she puts thought and consideration into her craft.
BET.com: So many view perspectives from the different characters in the film once Lee-Curtis's scandal hits the public. What were your goals as actors when you decided to participate in this film, and what conversation starters are you wishing will start?
Brown: My goal is for people to engage in critical thinking throughout their life. I never want you to attribute anything other than your source of thought.
Honk For Jesus is out in theatres and available for streaming on Peacock today.
---
*This interview has been edited for length and clarity
Ty Cole is a New York-based entertainment reporter and writer for BET.com who covers pop culture, music, and lifestyle. Follow his latest musings on Twitter @IamTyCole.