Bloop: Kenya Moore Takes Sides In NeNe Leakes' Feud With Kim Zolciak
You'll never guess who she's supporting.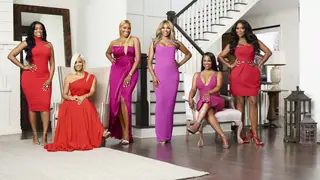 Kenya Moore has a lot to say about the ongoing feud with Nene Leakes and Kim Zolciak. Despite having previously fallen out with both of her Real Housewives of Atlanta castmates, the newly married reality star has made it clear who she's supporting.
During a recent chat with E!'s 'Daily Pop' Kenya recounted the incident at Nene's home where Kim's oldest daughter filmed video footage of bugs she claimed were roaches. "I was there! I was at Nene's home… Brielle wasn't even invited to her home. Kim was going at me for no particular reason about my husband so that's when we first got into any big argument," she said.
Going further, Kenya added, "But little did we know, Brielle is in the bathroom filming bugs in Nene's house. Nene has a brand new house. If she has a few bugs in there, who knows how they got in there." As the owner of a newly built home she sympathized with Nene saying, "We've all had bugs in our home, ants and things like that. Then it became, 'Oh, they're roaches.' Then they released this video. It's a shame. Who comes to someone's home and films bugs in their bathroom?"
Kenya Moore kept the Kim Zolciak shade coming in a separate interview with E! "I think when you come from a dark place such as Kim Zolciak, you can't be happy for other people… I see people like her as really pathetic and it's sad that someone can't be happy for me because I'm happy," she added.
Over the summer, Kenya Moore had it out with Kim Zolciak and her daughter Brielle Biermann. The teenager allegedly called Moore a "dumb ugly evil b***h" on Twitter after having a "huge fight" at Nene's annual white party.
See more celebrity news with BET Breaks, above.