SZA Clears Up Who She Was Talking About On 'I Hate U
The TDE songstress took to Twitter to provide a detailed explanation.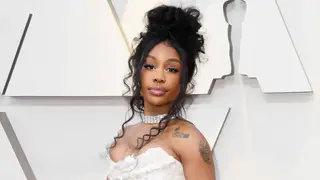 In August 2021, SZA dropped "I Hate U" on an anonymous SoundCloud account, and since, the response to it has been extensive.
Eventually releasing it as a single, the hit is one of the biggest of her career. It suggests she's talking about men, however the TDE singer revealed via Twitter on Tuesday (May 3) that she was actually referring to just about everyone.
"I swear to God if I didn't accidentally fall in love w music .. I would NEVER EVER COME OUTSIDE," she tweeted. "Y'all suck the joy and life out of EVERYTHING. Thank God for purpose cause Outside of art it's fuck y'all. Now run w that. When I said I BE SO SICK OF U N****S YALL CONTRADICTING. I was talking to everyone. Not men. For the record. I hate u was a universal emotion. Take care."
She added, "And please know when I drop anything it's not for y'all. It's to free my m****rf*****g self. NOW EVERYONE HAVE A C******T SANDWICH AND A MERRY CHRISTMAS."
"I Hate U" peaked at No. 7 on the Billboard Hot 100 and No. 1 on the Hot R&B/Hip Hop Songs and Rhythmic Airplay charts. Additionally, SZA discussed the track at the 2022 Met Gala on Monday, while also confirming her new album is on the way this summer.
"Literally, I put ['I Hate U'] on SoundCloud because I wanted a reason to be like, pressure free, and be like, 'I don't want the stress of putting out an album,'" she said. "But my album's finally like, ready to go, more than I've ever felt before. So this summer it'll be a SZA Summer."