Denzel Washington and Hidden Figures Score Surprise Wins at SAG Awards
Watch their epic speeches.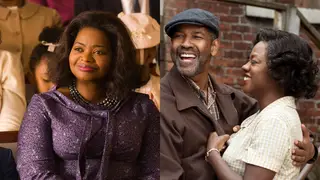 With Fences, Moonlight and Manchester by the Sea leading in nominations for this year's 23rd Annual Screen Actors Guild Awards, the competition truly was fierce and many were not expecting some of the "underdogs" to find success.
Hidden Figures beat those expectations by winning the SAG Award for Outstanding Performance by a Cast in a Motion Picture, despite the fact that Manchester by the Sea was the favorite to win. Nobody was more surprised than the Hidden Figures cast,  and their faces put Twitter on fire.
In addition, another actor was floored when he found out he also scored big, with none other than Denzel Washington himself standing in disbelief once he heard his name was called.
The actor won for Best Actor in a Leading Role for his work in the film Fences. As exemplified by Washington's candid reaction upon realizing he won the award, he clearly did not see that one coming.
Take a look at the incredible Taraji P. Henson accepting the award on behalf of the cast of Hidden Figures and hear Denzel Washington's humble acceptance speech, in the clips below.