Pardison Fontaine Pens a Poem for Megan Thee Stallion Amid Breakup Rumors
The music producer performed a piece about survival and triumph over adversity at Da Poetry Lounge in Los Angeles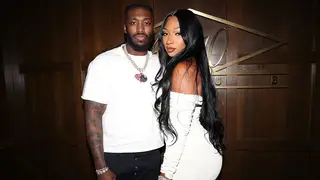 There's nothing like having someone who loves you in good and bad times. Despite rumors that Pardison Fontaine (born Jordan Thorpe) and Megan Thee Stallion have broken up, Pardi recently performed a poem at Da Poetry Lounge in Los Angeles that most fans think was written for Meg.
"… Most beautiful women in the whole audience. The piece I'm about to do is about another beautiful woman that I know," he said from the stage before starting his piece.
"You're a survivor but not a victim, somewhere in between 'God forgive him' and 'I gotta get him," the poem began. "That's why you don't ever let these bit—s get you out your rhythm/ You treat these n—as like they're buy one get one/ You out here working to keep your mind off hurting."
He continued: "Get your to-do list, it's buying candles and shopping for curtains, it's find your purpose/ You in your bag not just Birkins/ You know your happiness can not be purchased/ It's deeply rooted and not just surface/ The dream ain't big enough if you think about it and not get nervous/ If you need me girl, I'm at your service."
Fans have flocked to the comment section of Pardi's Instagram to cheer for him and his love of MTS who has only recently returned to social media after testifying against Tory Lanez for shooting her in 2020. Lanez was found guilty and faces up to 22 years in prison.
Meg and Pardi have been together since 2020 and they often shared cute pictures and videos that gave insight into their relationship, but fans have wondered if they are still together since they unfollowed each other on Instagram.
Dropping his poetry video might have swayed fans to Team Pardi with one user commenting, "Damn this was some Darius Lovehall shit right here ion noooo…. He might got another chance after this one. #LoveJonesVibes"
Last December, he showed love to Meg and other survivors of violence writing in an IG story, "To any woman especially ones of color that has suffered an injustice I feel for you," he wrote in an Instagram Story last December. "When you do find the courage to speak up .. it seems you will be ridiculed .. your credibility will [be] questioned .. your entire past will be held under a magnifying glass .. in an instant you can go from defendant in the eyes of the public .. to any one with a daughter Sister mother niece or aunt I pray for their protection .. I pray for their covering .. I wouldn't wish this on anyone."