Lil Durk Says Chicago Shouldn't Be Singled Out As Violent
Does he have a point about his hometown?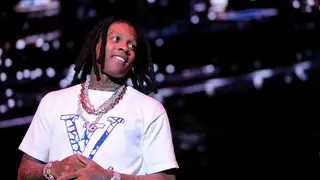 Chicago has long been a scapegoat regarding crime, especially since critics of the Windy City's crime rate and the headlines generated from it often offer zero solutions nor a good faith effort in addressing it. Lil Durk essentially made a similar, yet simpler, argument.
During an interview with MSNBC's Ari Melber, the Chi-Town rapper spoke about comments conservative politicians have made about his city's number of gun violence cases and high murder rates.
"I really don't pay it no mind cause there's violence everywhere. You can get self-defense anywhere, you can kill anywhere, you can stab anywhere, you can choke anywhere, you can kidnap anywhere," Durk said. "Every city has its murder rates. Every city has their rates. If you look up right now who got the most murder rate right now, I bet you it ain't Chicago." 
He continued, "Now the story transpires to that city. So that's why I never really comment on it cause every city has its day." 
And while politicians and pundits have done little or nothing to help Chicago's crime statistics, Durk has, through his Neighborhood Heroes Foundation, which aims "to empower and collaborate with everyday Heroes who are taking the lead to make a positive difference in the lives of those within under-resourced neighborhoods."
Last year, Durk and his foundation launched a career program for city teens that provides them access to information on HBCUs and more.
Watch the full interview segment below.